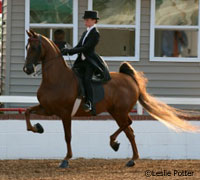 After the Lexington Jr. League and the World's Championship at the Kentucky State Fair, the American Royal Horse Show marks the third and final event in the American Saddlebred Triple Crown. The best show horses in the breed will be in Kansas City this week for the end-of-season show.
The American Royal features Saddlebreds primarily in saddle seat divisions for both three- and five-gaited horses, along with the increasingly popular Saddlebred western pleasure division. The show also features
Hackney Ponies
and
Standardbred
roadsters.
The top saddle seat equitation riders in the country compete throughout the show season with the goal of competing in one of the major finals held at the American Royal. The United States Equestrian Federation Medal Final and the United Professional Horsemen's Association Challenge Cup are both currently held at the Royal. In order to compete at the finals for either of these classes, riders under age 18 must qualify with wins in designated classes during the season. These two finals, along with the National Horse Show Saddle Seat Event, make up the Saddle Seat Equitation Triple Crown.
Both the USEF Medal and the UPHA Challenge Cup consist of two phases with rail work and pattern work. Riders are judged on their ability to maintain proper form while still achieving a top performance from their horse. Pattern work can consist of circles, serpentines, transitions, and work without stirrups, among other tests outlined in the USEF rule book.
There is only one USEF Medal, but the UPHA Challenge Cup offers three finals for different age groups: The UPHA Walk and Trot Challenge Cup for riders 10 and under; the UPHA Junior Challenge Cup for riders 13 and under, and the UPHA Challenge Cup for riders 17 and under.
Additionally, The Royal hosts the UPHA Exceptional Challenge Cup. This equitation final is open to qualified equitation riders of any English discipline who have a mental or physical disability. Riders in this class complete rail and pattern work at the walk and trot. The Exceptional Challenge Cup will be held Thursday, with morning preliminaries and evening finals.
The full show will be available for live, online viewing at the cost of $11.99/session or $14.99/day. The live streaming includes accompanying commentary from Railside Reports for selected sessions. For more information, click here.