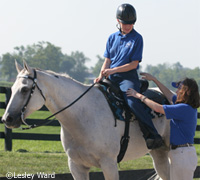 Riding instructors from across North America are enjoying a late-fall getaway to Florida this week. The American Riding Instructors Association is holding its 25th anniversary convention this week at the Naples Grande Beach Resort in Naples, Florida. This year's convention runs November 18-21.
More than just a beach holiday, the ARIA convention offers a variety of informational seminars for riding instructors in attendance. Topics range from teaching philosophy to business for instructors to health care for school horses. Presenters include several big names in the horse industry, including Jane Savoie, Susan Harris and George Morris. Instructors will also be able to take the ARIA test to become certified or renew their certification at the convention.
To become certified with the ARIA, riding instructors must pass a written test, an oral presentation, and submit a video of themselves teaching a lesson for evaluation. New instructors who have little to no teaching experience can test for a Level I – Instructor in Training certification, which does not require a video submission.
With the exception of Massachusetts, riding instructors in the United States are not required to have any type of certification or credentials to go into business. Organizations such as the ARIA give riding instructors a means to prove their qualifications as a teacher as well as their dedication to their profession. ARIA certification is available in 15 different areas of specialty including all of the major disciplines as well as stable management, mounted patrol training and others.
Read more about riding instructor certification >>
Read more about finding a lesson program >>