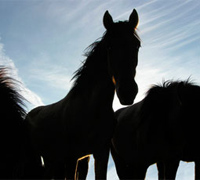 A Thanksgiving Day rescue of 84 neglected equines in Tennessee has brought the spotlight to that state's animal welfare regulations. With limited government-funded animal control resources and laws that make cruelty to horses only a misdemeanor, helping abused and neglected animals has been a challenge.
The neglected horses, primarily
Spotted Saddle Horses
as well as a few
Tennessee Walking Horses
and
Quarter Horses
, were relinquished into the custody of the Humane Society of the United States by their owners, Eugene and Clint Howland of Bradyville, Tenn. With volunteer assistance and donations, the horses have been cared for at the Tennessee State Fairgrounds and will be transferred to rescue groups for possible adoption once they have regained weight and strength.
Additionally, 20 neglected dogs found at an apparently abandoned property in Washburn, Tenn. joined the horses at the State Fairgrounds a week after the horses arrived. They were brought to the Fairgrounds because the county where they were seized did not have adequate facilities to hold them.
These recent, large-scale animal neglect cases have highlighted inefficiencies in Tennessee's ability to handle animal welfare cases. A December 8 article in Nashville newspaper The Tennessean states that nearly 50% of Tennessee counties lack animal control programs. Of those that do have programs, many do not have the authority to investigate cruelty charges.
Additionally, horses are classified as livestock in many states, including Tennessee. As a result, a charge of cruelty to horses has a maximum fine of $2,500 and no jail time. A cruelty charge involving dogs or cats is classified as a Class A misdemeanor for a first time charge and a felony for subsequent charges and comes with a higher fine and the possibility of jail time.
Tennessee State Representative Janis Sontany visited the horses held at the fairground, and has stated her intention to file a bill that would make abuse or neglect of any confined animal a felony. Past efforts to include farm animals in companion animal cruelty laws have met with strong opposition from representatives of rural communities. Equine welfare advocates are hoping that this extreme case of cruelty to horses will be a catalyst for change in how the legal system views horses.