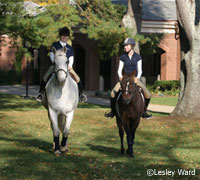 In the past, up-and-coming horse trainers, breeders and riding instructors learned their trade either through family involvement in the industry, or by apprenticing with experienced horsemen. Today, more and more aspiring equine industry professionals understand the value of post-secondary education and are choosing to pursue Equine Science degrees.
There are several advantages to obtaining an equine degree for aspiring equine professionals.
Students have networking opportunities with professors, other students and alumni to help find working student positions in the horse industry during their college years.
Most college programs receive their horses through donations, giving students a diverse herd with which to gain hands-on experience.
University students and professors have access to the latest research in equine science topics, providing an advanced understanding of horse management.
Well-respected equine programs attract students from across the country and from foreign countries, which creates a melting pot of ideas on training and horsekeeping topics.
Equine science students have the opportunity to learn other subjects, such as accounting, marketing, education and law, that are invaluable for their future careers as equine industry professionals.
Dozens of colleges and universities across the United States offer two- and four-year degrees in Equine Science and related fields of study. Students now have the option of seeking out even more specific degrees, including equine journalism and equine-assisted therapy. Until recently, however, these programs have been fairly isolated from one another.
In May of 2009, the National Association of Equine Affiliated Academics (NAEAA) held its inaugural meeting in Colorado. Representatives from a variety of colleges and universities met to present and discuss topics ranging from equine internships, defining equine discipline and job opportunities for equine program graduates.
The mission of the NAEAA is as follows:
NAEAA  Mission
The National Association of Equine Affiliated Academics(NAEAA) has been formed with the intent of encouraging increased cooperation and information sharing on a national level between colleges and universities with these programs.
Association Goals
Current and long term Goals include:
Provide a venue for sharing ideas, concerns, and information
Provide assistance to colleges and programs looking to develop, expand and continually improve.
Develop a database of best practices ranging from number of students in a riding class to ways to work with animal rights activities on or near a campus
Provide assistance to faculty/staff looking to develop program quality standards for their own personal assessment and/or for required assessment through internal and external academic review processes
Development of international internship opportunities for students in member institutions
Development of faculty exchange programs amongst member institutions
For more information, visit naeaa.com