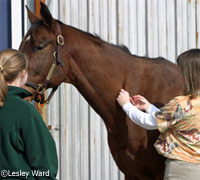 New equine research, practical veterinary techniques and business education attracted a record 7,611 attendees to the American Association of Equine Practitioners' 55th Annual Convention in Las Vegas, Nev., Dec. 5 – 9. The previous record was set during the 2007 convention in Orlando, Fla.
"The economy has affected all aspects of the horse industry in 2009, and I believe our record attendance indicates how strongly equine veterinarians value quality continuing education," said David L. Foley, AAEP executive director. "I want to thank the Educational Programs Committee and convention program chair Dr. Nat White for their exceptional efforts putting together this year's scientific program."
Highlights from the convention include:
Installation of new officers and board members. The 2010 Executive Committee and new members of the board of directors took office Dec. 8. The members of the Executive Committee are Nat White II, DVM, Leesburg, Va., president; William Moyer, DVM, College Station, Texas, president elect; John Mitchell, DVM, Boca Raton, Fla.; Harry W. Werner, VMD, North Granby, Conn., immediate past president; and Jeffrey T. Berk, Ocala, Fla., treasurer.
New members of the board of directors are: District IV – Jay D. Addison, DVM, Independence, La; District V- John A. Stick, DVM, Williamston, Mich.; District VI – Josie Traub-Dargatz, DVM, Fort Collins, Colo.; Director at Large – Roger Rees, DVM, South Jordan, Utah; and Mr. Bill Brewer, equine industry board member.
Annual awards presented. The AAEP honored the 2009 recipients of several awards. The following were recognized at the Dec. 8 President's Luncheon:
Distinguished Educator Award: John T. Vaughan, DVM, and the late Dean Scoggins, DVM
Distinguished Life Member: Tom R. Lenz, DVM, MS, and C. Wayne McIlwraith, BVSc, Ph.D.
Distinguished Service Award: Scott E. Palmer, VMD
Equine Welfare Award: The Lavin Cup: North American Equine Ranching Information Council
President's Award: Steve O'Grady, BVSc
Prominent orthopedic surgeon delivers featured lecture. The Frank J. Milne State-of-the-Art Lecture – "Operative Orthopedics of the Equine Fetlock Joint: Fractures, Fragments, Failures and Fixes" – was given by internationally recognized surgeon Larry Bramlage, DVM, MS.
Auctions raise funds for AAEP Foundation. The annual live and silent auctions held during the Foundation Celebration raised $93,000 to help fund student scholarships, benevolence work and equine research.
The AAEP's 56th Annual Convention will be held in Baltimore, Md., Dec. 4 – 8, 2010. More information is available at www.aaep.org.
The American Association of Equine Practitioners, headquartered in Lexington, Ky., was founded in 1954 as a non-profit organization dedicated to the health and welfare of the horse. Currently, the AAEP reaches more than 5 million horse owners through its nearly 10,000 members worldwide and is actively involved in ethics issues, practice management, research and continuing education in the equine veterinary profession and horse industry.