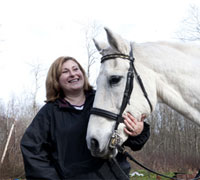 Jennifer Kruzel, shown here with 33-year-old Brownie, won the Purina Senior Horse Tales essay contest.
Purina has selected the winners of its online Senior Horse Tales Contest. Four national winners and seven regional winners were chosen in categories that included best senior horse essay, best senior horse or senior pony photo, oldest horse in age and oldest pony in age. Entrants were asked to include how Purina Equine Senior® feed made an impact on their horses.
"Purina enjoyed reading the entries received from senior horse and pony owners," said Chris Goodwin, marketing manager for Purina. "The passion displayed in the essays and photographs were truly remarkable, and it was wonderful to read the many unique stories about the ageless bonds that so many horse owners share with their horses. It was a joy reading these wonderful stories."
More than 800 senior horse owners entered their one-of-a-kind tale in Purina's Senior Horse Tales Contest. A list of winners and many other heart-warming stories can be found online at Purina's Senior Horse Tales Contest web site, www.equinesenior.com.
Grand-prize winner Jennifer Kruzel, of Whitman, Mass., is the winner of both the Northeast region and national essay contest. Kruzel wrote her winning essay on her horse Brownie, a 33 year-old quarter horse that grew up with Kruzel since she was 4 years old. As a national and regional winner, she will receive one and one-half tons of Purina Equine Senior® horse feed.
"Brownie and I literally grew up together," said Kruzel. "He has been there most of my life and I can't imagine life without him. He is that mixture of everything you want in a horse… he's beautiful, sweet, intelligent and amazing. He's just the best, and he's mine."
Kruzel won the national essay with the following entry:
Brownie has been my best friend for more than 33 years and we feel that Equine Senior has made this possible. Brownie, our grey 16.3h QH was born at our home when I was just 4 years old. I'm now 37 and appreciate how lucky I've been to have him my whole life. I still remember the night he was born. What a long night it was, I was laying in bed waiting. Then I heard my Mum say, "We now have eight legs not four!" I ran to the barn, I burst into the stall, thrilled, and wrapped my arms around the leggy colt unaware, and unafraid for how his Mother might feel about my show of affection. But, like my Brownie would prove to be, she was kind and tolerant of my foolishness. I instantly proclaimed him "BROWNIE!" Mother tried to explain he will turn grey, but I reminded her — she said I could choose his name. We laugh now and tell this story often, when people say, "Why do you call a white horse Brownie?" Brownie has many championships under his belt. Everyone who has met him through his many years sees his beauty and feels how special he is. He grew to be an amazing hunter/jumper, dressage, trail, and school master horse teaching children. Nowadays, he gives a few lessons to special needs children. He's kind and as smart as they come, and handles all his riders with care. I'll always compare every horse I ride or see to Brownie. I've come to realize just how high a standard in my mind and heart he has set. They say for every rider there is that one horse. This one was mine.
Brownie and I grew up together and he is still with us, thanks to Purina Equine Senior.
In addition to Kruzel's regional and national win, three national winners of the Purina Senior Horse Tales Contest will receive one ton of Purina Equine Senior® horse feed.
Best National Senior Horse Photo Winner — Hurricane
Michelle George, of Lawson, Mo., was selected as Best Senior Horse Photo winner for her photo titled "Hurricane." The photo shows the loving bond between Hurricane, her male Morgan horse and Annie her female quarter horse.
"When I snapped the photo of Hurricane and Annie, I felt that it clearly described the relationship between the two," said George. "They are so close. Annie has a sweet disposition and lets Hurricane think he's ruling the roost, when actually she does. They have always been a great team."
National Oldest Horse in Age Winner — Muffy
Joan Glover, of Payette, Ida., was selected as the winner of the Oldest Horse in Age for her submission of Muffy, a half Arabian and half quarter horse born in 1963. Glover, who has had Muffy for 28 years, described Muffy as a sweet and healthy girl.
"Muffy has never had a cold," said Glover. "She loves people and loves to nuzzle. She'll even sometimes nuzzle you before she goes in for her hay, which shows her love for others considering that many horses think of their tummies."
National Oldest Pony in Age Winner — Buster
Toni Shroyer, of Novato, Calif., won the Oldest Pony in Age category for her pony, Buster, a pinto breed born in 1960.
"If he were a person, he'd be a locksmith," said Shroyer. "He can get into any gate. We call him Houdini. He's really good with the kids. He has a gentle soul, and he is well known in our community. I want to thank Purina for helping him to live so long."
Senior Horse Tales Contest Regional Winners
Regional winners of the Purina Senior Horse Tales Contest will receive one-half ton of Purina Equine Senior® horse feed. To view winning entries, click on the links below.
Pacific Northwest Regional Winner — Awesome Bruce
Vicky Jo Price, Pocatello, Ida.
West Regional Winner — Peppy Joe Whiz
Rene Watts, Hobbs, NM
Southwest Regional Winner — Strutt
Aubrey Stoughton, Caldwell, Texas
Upper Midwest Regional Winner — Ike
Ryan Ritter, Saybrook, Ill.
Southeast Regional Winner — Foxy
Emily Dilley, Cordova, Tenn.
East Central Regional Winner — My My Star
Deanna (Farkas) Belanger, Lapeer, Mich.
Northeast Regional Winner — Brownie
Jennifer Kruzel, Whitman, Mass.
Read more on senior horse care >>