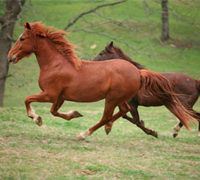 The American Association of Equine Practitioners introduced Nathaniel A. White, II, DVM, a respected equine researcher and surgeon, as its 2010 president during the 55th Annual Convention in Las Vegas, Nev. Dr. White was inducted to the office during the Dec. 8 President's Luncheon.
Dr. White is the Jean Ellen Shehan Professor and director of the Marion duPont Scott Equine Medical Center at the Virginia-Maryland Regional College of Veterinary Medicine. He is a former chair of the AAEP's Student Relations and Foundation Advisory committees. In 2006, he organized an Equine Research Summit as part of the AAEP's effort to promote equine research. He was awarded the 2004 AAEP Distinguished Service award for his numerous contributions to the association. He is a member of the AAEP, the American College of Veterinary Surgeons and the American Veterinary Medical Association.
"With his current position at the Marion DuPont Scott Equine Medical Center, as well as having previously served as president of the American College of Veterinary Surgeons, Dr. White brings a great deal of veterinary leadership experience to the role of AAEP president. Those experiences, plus his long history of service to the AAEP, will ensure the association's continued success," said AAEP Executive Director David Foley.
During his term as president, Dr. White plans to focus on providing equine veterinary students with a comprehensive education, supporting equine medical research and promoting professional ethics in a difficult financial environment. He will strive to bring awareness to these issues and make progress in these areas by offering viable solutions during his presidency.
After receiving his veterinary degree from Cornell University in 1971, Dr. White completed an internship and residency in surgery at the University of California-Davis. He spent a year in practice before graduating with a master of science in pathology at Kansas State University in 1976. Dr. White has served on the faculty of Kansas State University, the University of Georgia and Virginia Tech. He was the Theodora Ayer Randolph Professor of Surgery as an eminent scholar at Virginia Tech from 1987 to 2003. Dr. White also is an adjunct professor at the University of Maryland.
A world-renowned expert on colic, Dr. White has authored or co-authored 148 journal articles and 35 book chapters, has published 40 abstracts, and is the editor and author of The Equine Acute Abdomen, Current Practice of Surgery, Current Techniques in Equine Surgery and Lameness and the Handbook of Equine Colic. His clinical and research interests include pathophysiology of ischemia-reperfusion, epidemiology of colic, abdominal and orthopedic surgery and treatment of orthopedic diseases.
Other honors received by Dr. White include the Pfizer Animal Health Award for Research Excellence in 1999 and the 2005 Distinguished Virginia Veterinarian Award from the Virginia Veterinary Medical Association. Dr. White was one of the founders of the Bolshoi Colic Research Program at the University of Georgia and helped organize the Equine Colic Research Symposium in 2008.