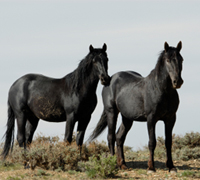 In an effort to reduce environmental strain due to overpopulation in the Calico Mountains of Nevada, the Bureau of Land Management is rounding up thousands of wild horses for relocation.
Currently there are over 3,000 wild horses and burros roaming the 542,100 acre Calico Mountains Complex. Extreme drought in the region has resulted in inadequate water and grazing for the horses and other local wildlife. According to a BLM press release, the roundup will remove the majority of the population, leaving a more sustainable population of 600-900
mustangs
in the complex. The BLM will also use fertility control in the mares they release back to the Complex after the roundup.
The horses collected by the BLM will be given veterinary care, then offered for adoption. Those that are not adopted will be sent to large Midwestern ranches used by the BLM as long-term holding for wild horses and burros.
Wild horse advocates attempted to halt the roundup by bringing the case to court, asking the court to block the roundup on the basis that it violated federal law. The judge sided with the BLM, however, and allowed the roundup to continue after the December 23 ruling.
In response, opponents of the roundup, including actor Viggo Mortensen and singer Sheryl Crow, appealed to Senate Majority Leader Harry Reid of Nevada and President Obama, asking them to intervene and halt the roundup. In response, Sen. Reid expressed dissatisfaction with the BLM's past management of the horses. However, he acknowledged that at this time the roundup is necessary, but cited past mismanagement of the herds as a major factor in the current situation.
In response to the controversy surrounding this roundup, the BLM has responded to common questions and criticisms on their website. For more information on the roundup, including information on adopting one of the Calico Mountain mustangs, visit blm.gov
Read more on the government plan to relocate wild horses. Read more >>