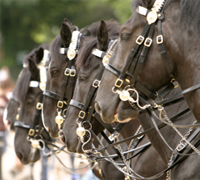 Held annually since 1890, the Rose Parade is a southern California tradition held in conjunction with the New Year's Rose Bowl game in Pasadena. The parade was originally a celebration of southern California's mild January weather and features a variety of select equestrian entries as well as floral floats and marching bands.
This year's theme is "A Cut above the Rest." Captain of the Miracle on the Hudson, pilot Chesley Sullenberger is being honored as the 2010 Grand Marshall for the Rose Parade.
Many of the equestrian entries were previewed at Equifest on Tuesday, December 29. Equifest gives spectators a chance to see the performances and meet the horses and riders of the Rose Parade at the L.A. Equestrian Center in Burbank. The equestrian groups are selected for the parade several months in advance and several of them travel across the country to participate. Many of the groups have been invited back year after year.
The Rose Parade will be broadcast on ABC, HGTV, RFD-TV, Hallmark Channel, Travel Channel and Univision. The Parade begins at 8:00am Pacific Time on January 1 and lasts approximately 2 ½ hours. Check local TV listings for broadcast times.
Watch the Cowgirls Historical Foundation in the 2006 Rose Parade
Watch the Shire Riders in the 2009 Rose Parade
The current list of 2010 equestrian participants follows.
All American Cowgirl Chicks
Amigos de Anza Equestrian Drill Team
Arizona Mini Mystique Driving Drill Team
Benny Martinez Family
Calizona Appaloosa Horse Club
Cowgirls Historical Foundation
Giddy Up Gals
LA County Sheriff – Mounted Enforcement
Long Beach Mounted Police
Medieval Times
New Buffalo Soldiers, The
Painted Ladies Rodeo Performers
Region 1 Versatile Arabians
Scripps Miramar Saddlebreds
Shire Riders, The
So Cal Peruvian Paso Horse Club
U.S. Army Ft. Hood – 1st Calvary
USMC – Color Guard
USMC – Mountain Warfare Training
Valley Hunt Club
Victorian Roses Ladies Riding Society
Wells Fargo
Western Haflinger Association