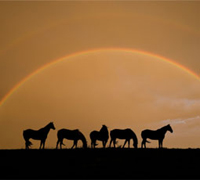 All professional and amateur photographers who seek to capture the ideal image of the horse are invited to enter the 2010 Online Photography Contest sponsored by the Equine Photographers Network.
The deadline for entries is February 15, 2010. Winners will be announced on April 10th. Winners will be recognized on the contest's website,
www.equinephotocontest.com
. Images are to be submitted in a digital format as per guidelines found on the contest's website.
Images will be judged by professional equine photographers based on: impact, equipment expertise, technical/artistic expertise, light and color, subject matter, creativity and suitability.
As the contest sponsor, the Equine Photographers' Network will be awarding ribbons to first to sixth places and prizes to the top three placing photos in each of the seven categories and a Best of Show award in both the Professional and Amateur divisions. This contest will also feature two People's Choice Awards, a very popular feature from previous contests where the public is invited to cast their vote for their favorite photo from the professional and amateur divisions. View results from previous contests here.
The official rules and entry form are available online at www.equinephotocontest.com
For more information on the Equine Photographers' Network, visit the website at www.equinephotographers.org or email info@equinephotographers.org
Click here for equine photography tips from Bob Langrish.
Click here for photography tips from Christina Handley.