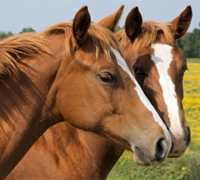 The popular American Quarter Horse party known as QuarterFest is returning to Murfreesboro, Tennessee, in 2010, and tickets are now on sale. The Tennessee Miller Coliseum at Middle Tennessee State University will host QuarterFest April 30-May 2.

QuarterFest gives equine enthusiasts the opportunity to connect with other people who share their passion. Participants can bring their horses for great clinics (limited availability), watch exciting equine entertainment and shop at the trade show.

Tickets are on sale now. This year, the ticketing experience is even easier with just two options: either come for the experience by selecting General Admission or bring your horse and select Clinic Admission. General admission tickets allow you to watch the clinics of your choice from the stands without your horse.

American Quarter Horse Association members receive discounts on tickets. General Admission three-day QuarterPasses start at $50 and Clinic Admission three-day QuarterPasses start at $175 and include six clinics of your choice (limited availability).

Many world-renowned clinicians are lined up to share their talents with QuarterFest attendees and help owners build a better relationship with their horses. The list of clinicians includes Julie Goodnight of Poncha Springs, Colorado; Christy Landwehr of Aurora, Colorado; Mike Major of Fowler, Colorado; Ken McNabb of Cody, Wyoming; Curt and Tammy Pate of Helena, Montana; Stacy Westfall of Mount Gilead, Ohio; and Bo Winslow of Estes Park, Colorado.

Visit the www.aqha.com/quarterfest for the latest information on QuarterFest activities including clinics, shopping and entertainment.

QuarterFest is a three-day, education-packed celebration of the American Quarter Horse April 30-May 2 in Murfreesboro, Tennessee, where AQHA members and horse enthusiasts from around the world will gather for fun, entertainment and festivities.