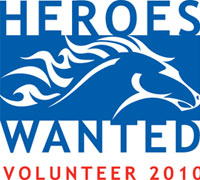 Thousands of volunteers are still needed to work hundreds of different jobs during the 16 days of the Alltech FEI World Equestrian Games, which will be held for the first time in American from September 25-October 10, 2010 at the Kentucky Horse Park.
"We need volunteers who can lend their expertise to help make these Games a success, no matter their professional skill level," said Melissa Gamble, Volunteer Manager for the World Games 2010 Foundation. "You might work as a ticket-taker, an usher, work at a visitor information desk, or help with transportation or event services, but each is a very important part of how these Games work every day."
Volunteer positions for competition-specific duties are currently being selected, but thousands of General Volunteers are still needed. Volunteers can still register their interest at www.alltechfeigames.com/volunteer
In addition, there is still time to reconfirm your interest as a volunteer if you signed up within the past two years. To reconfirm interest or adjust current contact information e-mail volunteers@feigames2010.org.
All volunteers will receive an official Ariat uniform and a volunteer credential, which will provide General Admission entry to the grounds of the park for all 16 days of the Games. In addition, meal vouchers will be provided for each volunteer during their shift.
According to current volunteers, the benefits of volunteering extend far beyond the uniform.
"The opportunity to assist with an international sporting event is something that many of us will never again experience," said Carolyn Greene, who volunteered during each of the 2009 Test Event competitions for the Games and is now volunteering full-time at the World Games 2010 Foundation office. "Volunteering is part of who I am and what I do, and I am having a blast here."
Martin Klotz volunteers his time as part of the Games' Speakers Bureau. After participating in a training program with staff members, Klotz carries the story of the Games to community groups throughout the Louisville area.
"After each presentation, I have come away with the feeling that I had created an awareness of the Games in those who had not thought much about them and enhanced the interest in those who had," said Klotz, who has also worked as an usher at the 2009 Test Events. "Of course, I hope I will continue to have the opportunity to help 'spread the word' about this monumental event."
It is not too late to experience the Games as a volunteer. For more information, visit www.alltechfeigames.com/volunteer or call 859-244-2996.
Read all the World Equestrian Games news >>