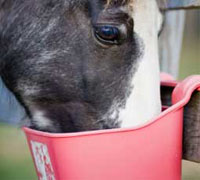 If you have a senior equine in your life, or a barn full of seniors, Pennfield Feed is starting off the year with a promotion you won't want to miss. Pennfield Feed has supplied grain for the last four Olympic and World Games, and was awarded the designation of Official Feed of the USEF in 2008. This year, they're launching a new promotion: "I resolve to get free feed."
Starting Monday, January 11th, through February 6th, 2010, when you buy four bags of either Senior's Choice* or Senior's Energized Choice you'll get your 5th bag free. With a the beginning of a new year and the economy tightening purse strings in barns around the country, Pennfield offers this promotion to help senior horse owners keep their horses healthy without breaking the bank.
Both Senior formulas feature the same high quality standards in formulation, consistency and ingredients as the Pennfield Feed athlete formulas that were chosen for the last four games ('02 Jerez, '04 Athens, '06 Aachen and '08 Beijing). But the proof is always in the horses. Top international riders like Georgina Bloomberg, Karen O'Connor, Phillip Dutton, Buck Davidson and many others live by that rule, which is why they feed Pennfield. At buy four get your fifth bag free, there is no better time than now to try the world's most credentialed feed.
For more information, or to find a dealer near you, visit us at pennfield.com
*Based on availability by region.
About Pennfield
Pennfield is a widely respected, family-owned feed company headquartered in Lancaster, Pennsylvania that is honored to have legendary riders like the O'Connors, Phillip Dutton and Bruce Davidson as loyal customers for decades. Pennfield has been serving the Mid-Atlantic since 1919, and was named in 2008 as the "Official Feed of the U.S. Equestrian Federation". They are known for using only the finest, most consistent feed ingredients and precise manufacturing techniques that ensure top quality "fixed formula" feeds. In 1996, Pennfield joined forces with Kentucky Equine Research and consequently merged tradition and technology. Pennfield's quality manufacturing and personal service combined with KER's state-of-the-art nutritional expertise gives Pennfield customers advanced equine nutrition and uncontested technical support. For more information, please visit pennfield.com or call 800-995-0333.