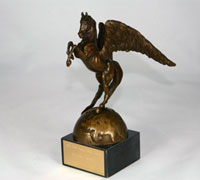 The 2010 United States Equestrian Federation annual meeting and convention begins today and runs through January 17 in Louisville, Ky.
The meeting is held each year to conduct Federation business, including meetings of the committees for each recognized breed and discipline and rules forums where members discuss possible rule book changes. Additionally, the USEF will award many of the most prestigious honors in equestrian sport during the five-day convention. Most of the awards will be presented at the Pegasus Awards Dinner on Saturday evening.
The Daniel P. Lenehan Trophy for Overall Media Excellence is awarded for outstanding achievement in media coverage of the equestrian world. Previously, media awards were given for several different categories. This year marks the first time that all forms of media, including writing, photography and internet, are judged against each other for one overall honor.
The USEF will present two young equestrians with youth awards. Morgan horse rider Maxi Gumprecht will receive the USEF Youth Sportsman's Award for her dedication to her sport. Gumprecht has competed successfully in several different disciplines as well as competitive horse judging and hippology. The John Hopkins University sophomore will receive a trophy, scholarship, and a lifetime membership to the USEF.
Maxance McManamy receives the USEF's other top honor for young riders, the title of Junior Equestrian of the Year. The California event rider earned individual and team gold at the 2009 North American Junior/Young Rider Championships in the CCI**. Outside of her competitive success, McManamy started a non-profit organization for which she retrains off-the-track Thoroughbreds for post-racing careers.
Another honoree at this year's convention is dressage legend Jessica Ransehousen. Ransehousen was a national and international dressage champion beginning in the 1950s and continuing several decades, including spots on the 1960, 1964 and 1988 Olympic teams. Throughout her career, she was a highly respected trainer and instructor whose students included Steffen Peters and Phillip Dutton. She continued to serve the United States Equestrian Team as the dressage chef d'equipe in the 1990s. Ransehousen is being honored this year with the USEF Lifetime Achievement Award.
Possibly the two most anticipated awards are the Horse of the Year and Equestrian of the Year titles. Each year, five horses and riders are nominated for their achievements during the competition season. The final awards are determined by votes from the USEF general membership. Check back on HorseChannel next week for final results of the Horse and Equestrian of the Year voting.