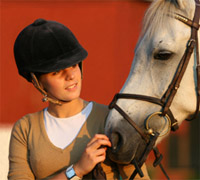 Young equine enthusiasts from around the country are expected to attend The EQUUS Foundation/USEF Youth Convention on Saturday, January 16, 2010, in Louisville, Kentucky. The Youth Convention, now in its third year, is held in conjunction with the USEF Annual Meeting for the purpose of uniting youth as well as for growing equine interest and participation.
Attendees will learn to become better horsemen, develop awareness of educational opportunities to pursue a career in the equine industry, and gain leadership skills to serve as future committee members. This all-day event will include a Star Power Panel of top athletes from USEF-recognized breeds and disciplines who will speak with youth about their experiences, backgrounds and enthusiasm for the horse, as well as answer questions. Experts in the equine industry will also be brought in to conduct breakout sessions regarding horse health; vaulting basics; interscholastic riding programs; college and career planning; affiliate youth programs; and a special session for parents, covering the basics of purchasing a first horse and competing. At the end of the day, attendees are invited to the Pegasus Reception and Awards Dinner, followed by a youth dance.
Colleges and Affiliates will have the opportunity to showcase information concerning their equine programs, equestrian teams and youth programs. Displays will remain up during the Youth Convention and the USEF Pegasus Reception on Saturday evening. Sponsorship opportunities are also available and donations of $25 or above will receive recognition in The EQUUS Foundation / USEF Youth Convention program.
The Youth Convention is an outreach program of the USEF Youth Council comprised of USEF members, 22 years of age and under. Youth Council members represent a variety of disciplines and organizations, including:
American Connemara Pony Society
American Driving Society
American Endurance Ride Conference
American Morgan Horse Association
American Road Horse and Pony Association
American Saddlebred Horse Association
American Vaulting Association
Arabian Horse Association
International Andalusian Lusitano Horse Association
International Friesian Horse Society
National Reining Horse Association
National Show Horse Registry
Para-Equestrian
Paso Fino Horse Association
United States Dressage Federation
United States Eventing Association
United States Hunter Jumper Association
United States Pony Club
Welsh Pony and Cob Society of America.
The Convention is sponsored by The EQUUS Foundation to support the Youth Council goals to: 1) Provide strong and creative youth leadership for all equestrian sport in the United States; 2) Promote the pursuit of excellence in horsemanship from the grass roots to the top levels; 3) Advance the level of horsemanship across all disciplines throughout the United States; 4) Generate interest between competitors and enthusiasts from all breeds and disciplines; and 5) Educate members and the public about equestrian sport.
To learn more about the USEF Youth Council, visit the USEF website. Please direct any inquires to Jennifer Mellenkamp, USEF Youth Programs Director, 859.225.6955 or jmellenkamp@usef.org.