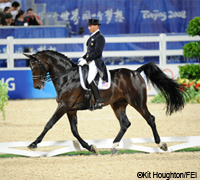 In January of 2009 Steffen Peters was honored with the USEF's Equestrian of the Year Award for his uncanny sportsmanship and his achievements on the field of play throughout 2008. In 2010, at the USEF Pegasus Awards dinner he was bestowed the title again – this time for simply blowing the doors off the dressage world in 2009.
The victory was made even sweeter by the fact that the beloved horse who made it all possible picked up the top honors the night before at the
2009 Farnam®/Platform™ Horse of the Year Awards dinner
. 2009 is a year that will go down in history as the year of Peters and Ravel.
In April, Peters (San Diego, CA) became only the second American to win the FEI World Cup Dressage Final™, and the first to do so in the US when he stormed to victory in Las Vegas. With Ravel, the performance brought the crowd to their feet and then to tears as the 11-year-old Dutch gelding owned by Aikiko Yamazaki proved how much he had improved since his fourth place finish at the 2008 Olympic Games. He looked the very best in the eye and never wavered – putting the historically Euro-centric dressage world on notice that the game had indeed changed.
The pair then cruised into Peters' native country of Germany and through the CDIO Aachen achieving another first for the US: they swept Europe's most prestigious event.
But it is the character of the 45-year-old German expatriate that makes it so appropriate for him to take these honors back-to-back.
"Tonight was very special," said Peters who rode at a horse show in California this morning. "Akiko made it possible (for me to be here). Last year I was in Florida for a clinic so this year. Being able to be here and give credit to Ravel, Akiko, Jerry and my wife Shannon. It certainly was an amazing year, and I have to thank Ravel for that. I want to thank every single person who voted for me."
Peters is the definition of a class act – as a competitor, as a sportsman, as a trainer and as an ambassador for his country. He joins Beezie Madden (who won in 2005 and 2006) and the man who presented him with the award, USEF President and 2000 Individual Olympic Gold Medalist, David O'Connor, as the only two-time winners of this highest honor (O'Connor won in 2000 and 2002).
"I have learned from people like my teammate Debbie McDonald that as you become very successful, you always become more humble," said Peters.
Complete list of the Equestrians of Honor is available here.