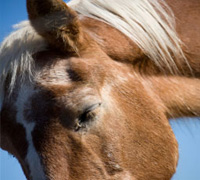 The news from Haiti has been surreal. Recovery in the aftermath of last week's 7.0-magnitude earthquake has been slow and arduous. Much of the impoverished nation's infrastructure was destroyed by the quake, leaving minimal resources for medical workers or volunteers to distribute aid.
Donations have been pouring in from other countries and individuals throughout the world. While organizations such as the Red Cross are working to help the human survivors, other organizations are stepping in to help the dogs, cats, livestock and horses that have been left to fend for themselves after the disaster.
If you would like to help the relief effort for animals, the following organizations are working along with humanitarian groups to help Haiti's animals.
The World Society for the Protection of Animals has created the Animal Relief Coalition for Haiti with assistance from American Humane and The American Society for the Prevention of Cruelty to Animals. Follow the latest news with the WSPA's Animals in Disasters Blog.
Heifer International is an established organization that helps families and individuals work their way out of poverty and build communities through responsible farming. Donate to Heifer to help the recovery process for farming families in Haiti.
Christian Veterinary Mission has a long-standing presence in Haiti helping teach veterinary care to local animal care workers and farmers.
The American Veterinary Medical Association's Veterinary Medical Assistance Teams respond to emergencies and natural disasters to ensure affected animals get high-quality care.
The International Fund for Animal Welfare brings its mobile veterinary clinic to places affected by disaster.
The first priority remains with helping locate and provide medical care for the human survivors of the earthquake. Many of the animal welfare charities will not be able to begin their work until the situation has stabilized. To help the current relief efforts, visit redcross.org or Clinton/Bush Haiti Fund.
Read more on emergency preparedness for horse owners >>