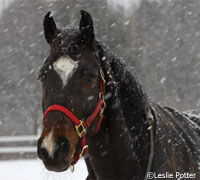 From Tee-Shirts to Thoroughbreds, if it's got a horse theme you can find it at the Maryland State Fairgrounds when the 14th Annual Horse World Expo comes to Timonium from January 21st – 24th, 2010. Horse World Expo brings tens of thousands of people from throughout the Mid-Atlantic region for outstanding seminars, shopping and more.
"The Expo has grown every year beyond what we could have dreamed," says Denise Parsons, President of Equestrian Promotions, the company that produces the event. "We fill many of the buildings at the Fairgrounds and each year we have to turn away vendors because we just don't have space. Our roster of seminars and clinics has become more impressive each year, too, and it makes the Expo an incredible value whether you're a competitive rider or just someone who likes horses."
This year visitors will be able to choose from over 130 seminars, lectures and demonstrations featuring some of the most recognized names in the equine industry. And the best part is, all seminars are completely free with daily admission.
There's attractions for all horse owners and enthusiasts with seminars on topics as diverse as equine dentistry to farm safety, equine law and liability, money matters, horse training and show ring strategy for competitive riders of all disciplines. Some of the outstanding clinicians include:
Julie Goodnight: "Classic Skills for a Natural Ride".
Nick Karazissis: From the West Coast, a cornerstone in the Hunter, Jumper and Equitation Industry
John Lyons: "America's Most Trusted Horseman"
Colleen Kelly: Improving the horse rider's seat, posture and balance
Boyd Martin: International competitor and Eventing champion
Steuart Pittman: Helping riders turn ex-racing Thoroughbreds into the Sport Horse of their dreams
Heath Ryan: Grand Prix Dressage Rider and Olympic coach.
Tom Seay: "Best of America by Horseback"
The Expo takes up two buildings at the Fairgrounds plus the barn space. Visitors can stroll down Stallion Avenue and Breed Row seeing outstanding examples of a variety of breeds or attend the many daily exhibitions, Parade of Breeds and Special Demonstrations. With over 200,000 square feet of exhibit space, the Expo offers 450 booths displaying everything from horse-themed home décor and giftware to saddles, jewelry, clothing, horse trailers and so much more. "If it's about horses, goes on horses or just has a horse on it, it's here," says Parsons.
Daily General Admission tickets are $10 for adults, $5 for children 7-12 (free for children under age 7). Each Daily Admission ticket includes all seminars and exhibitions at no additional charge. Parking is free; there are no multiday passes and pets are prohibited. Hours are Thursday, Jan. 21 Noon – 8pm, Friday, Jan. 22 10am – 8pm, Saturday, Jan. 23, 9am – 8pm, Sunday, Jan. 24 9am – 6pm. For more information and a complete list of seminars and events, visit horseworldexpo.com.