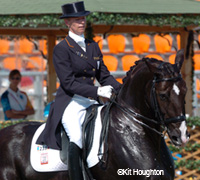 Anky van Grunsven and Salinero. Photo: Kit Hougton/FEI
Steffen Peters on
Ravel
,
Isabell Werth
on Satchmo and
Anky van Grunsven
on Salinero will head up an all-star cast at the Exquis World Dressage Masters in Palm Beach next month that kicks off a second year of the globe's richest lineup of dressage events.
The CDI5* event on Feb. 4-6 will be the first meeting of the three top combinations since the German and Dutch women–now both mothers–were runnersup to Steffen and Ravel at the World Cup in Las Vegas last April.
Anky and Isabell have won a combined total of 11 World Cup titles and eight Olympic gold medals in the 15 years they have dominated global dressage. Anky won the inaugural Palm Beach Masters in 2009 and at Cannes on the French Riviera in June, while Isabell captured the World Dressage Masters in Munich in May.
Van Grunsven has won nine World Cups, five on Bonfire and four on Salinero, three Olympic individual gold medals and two individual World Championship gold medals.
Werth has won four Olympic team and one individual gold medals, three World Championship team and one individual gold medals and two World Cup titles.
Steffen Peters beat both riders in the 2009 World Cup Final at Las Vegas then went on to make an historic sweep of all three team championship competitions–the Grand Prix, Grand Prix Special and Grand Prix Kür–at the World Equestrian Festival in Aachen, Germany. Those successes led to Steffen being named U.S. Equestrian of the Year for the second straight year and for Ravel being named Horse of the Year.
Other top combinations include:
Canada — Ashley Holzer, three-time Olympian, and Pop Art, and Cheryl Meisner and Paganini;
Germany — Ulla Salzgeber, Olympic gold medalist and two-time World Cup champion, and Wakana, and Anja Plöntzke and Le Mont d'Or, winners of the Cannes WDM Grand Prix Special;
The Netherlands — Stephanie Peters and Christa Laarakkers and Ovation;
Denmark — Mikala Munter Gundersen and Leonberg and Lars Petersen, Olympian and World Cup competitor, and Success, and
USA — Leslie Morse, WDM Hickstead Grand Prix Special winner, World Equestrian Games and World Cup competitor, and Tip Top, Lauren Sammis and Sagacious HF, 2007 Pan American Games team gold and individual silver medal winners, Tina Konyot and Calecto V, Reese Koffler Stanfield and Goughberg's Kaspar and Michael Barisone and Neruda, winner of the Palm Beach WDM Grand Prix Special and reserve for the 2008 Olympic team.
General Admission $20 per day for Friday and Saturday nights and VIP box seats $50 per day for Friday and Saturday nights. Full ticket info is available at www.equestriansport.com.