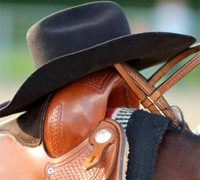 The western saddle is one of the great executions of form and function merging into a third greater thing – art. Its design is built around use, lightness, durability and fit to give the rider the ability to stay on board while at the same time not getting in the way of the horse, all the while being able to hold an 800-pound steer by only a rope wound around the saddle horn.
But more than a tool, western saddles are iconic representations of the work of an indigenous root-based culture in America. As much a part of the cowboy way as a hat and a pair of boots, saddles spoke of work in a unique vocation. Work performed by man and animal together, a task that remains remarkably unchanged due to the nature of the work itself – the moving and caring of livestock.
Like any tool, the saddle became an extension of those who used it and because of that became subject to personalization. That unique personalization and embellishment – call it character – is the basis for a new exhibition opening at the American Quarter Horse Hall of Fame & Museum in this month. The Art of the Western Saddle will feature 16 glorious examples of the saddlemaker's art. Curated by western historian and author William C. Reynolds, the exhibit will feature silver-mounted saddles from important private collections and museums across the country. The collection will display the saddles' unique design, craftsmanship and graceful merging of silver, gold and leather.
Many of the saddles have never been exhibited in public, and the exhibition will be a unique opportunity to see the pinnacle of craftsmanship, embellishing the primary tool of the American cowboy. The exhibit opened January 22, 2010, and will continue through July 31, 2010, at the American Quarter Horse Hall of Fame & Museum in Amarillo, Texas. For more information, visit www.aqhhalloffame.com, e-mail museum@aqha.org or call (806) 376-5181.