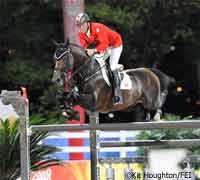 2009 Equine Canada Equestrian of the Year Eric Lamaze and Hickstead won the individual show jumping gold medal in the 2008 Olympics. Photo: Kit Hougton/FEI
Equine Canada will hold its annual meeting and convention this week. The eight-day convention holds meetings essential to the operation of the organization as well as educational programs and the annual awards reception.
Educational sessions include the following topics:
Posture and athletic training for equestrians
Digestive disorders of the horse
New lameness imaging technique for horses
Bits: how to effectively communicate
Additionally, several clinics by top judges and officials are offered, including:
Jumper judges' clinic
Hunter, hunt seat equitation and hunter hack judges' clinic
Principles of hunter and jumper course design
Para-equestrian coaching
Horse export preparedness training
Stewards' clinic
Equine Canada will be awarding some of the highest honors in equestrian sport during the convention.
The Equine Canada Equestrian of the Year will receive the Dr. George Jacobsen Trophy for superior horsemanship and dedication to equestrian sport. Last year's recipient was 2008 Olympic Gold Medalist for Individual Show Jumping, Eric Lamaze.
The Gillian Wilson Trophy will be awarded to the Junior Equestrian of the Year for the junior competitor who has made outstanding contributions to equestrian sport during the preceding year.
The Volunteer of the Year Award will be given to a volunteer who has contributed exceptional service to Equine Canada and its competitions.
The Susan Jane Anstey Media Award will be given to an individual who has helped promote Canadian equestrian sports to the general public through print media, Internet media, television broadcast or photography.
The Just Add Horses Environment Award recognizes an Equine Canada member who practices and promotes exceptional environmentally-friendly horsekeeping practices.
For more information about Equine Canada and the annual convention, visit www.equinecanada.ca