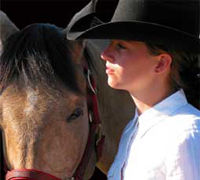 This year marks Equine Affaire's 10th anniversary in California. The annual event draws horse enthusiasts from around the southwest for entertainment, clinics and unparalleled shopping opportunities.
Training Clinics and Demonstrations

Equine Affaire attendees will have the opportunity to audit clinics and seminars by top trainers and equine experts, including:
Stacy Westfall – Reining
Carol Walker – Equine Photography
Jan Ebling – Dressage
Craig Cameron – Horsemanship
Sharon Camarillo – Barrel Racing
Amy Hayek, DVM – Veterinary Care
Ken McNabb – Horsemanship
Nick Karazissis – Hunter/Jumper
Richard Winters – Colt Starting
Other Events
Breed Pavillion – Local breed clubs and associations will be on hand to answer questions and serve as a resource for interested visitors. Representative horses from a wide variety of breeds will also be on the fairgrounds over the weekend so that attendees can meet them up close. Many will also be participating in live demonstrations to showcase their breed's talent in the clinic arenas.
Extreme Cowboy Race – Clinician Craig Cameron will be conducting an Extreme Cowboy Race on Thursday, Friday and Saturday evenings. The ECR is a timed obstacle course that requires competitors to perform simulated working ranch tasks in the covered arena. Components of this event may include navigating a pattern, jumping over obstacles, dragging logs, loading into a trailer, water crossings and even penning cattle. The winner earns a $2,000 cash prize.
Youth Pavillion – The Youth Pavillion is home to kid-oriented equine activities, including model horse painting, a stick horse rodeo and face painting. Youth organizations will also be on the grounds to help kids and parents learn ways to get involved in the equestrian community. Organizations include 4-H, Pony Club and California High School Rodeo.
Trade Show – One of the main attractions of Equine Affaire is the huge trade show that takes place for the duration of the event. Tack shops and manufacturers, breed associations, schools and colleges and equine artists will be among the hundreds of vendors on the grounds.
California's Equine Affaire is the first of three such events held annually in the United States. The next edition will be held in Columbus, Ohio in April and the final event is in West Springfield, Massachusetts in November. For more information, visit www.equineaffaire.com