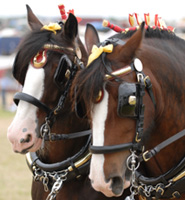 Sunday might have been a tough day for the Colts, but it was a great day for frogs, dogs, Clydesdales, elephants and other creatures featured in some of the eagerly awaited Super Bowl ads.
Americans were treated to nine commercials that featured a wide array of animals, including a hyena, leopard, woodchuck, bull, cockatoo, Capuchin monkey, chickens, frogs, snakes, horses and dogs. And while these ads placed many animals in comical situations, most advertisers made sure that representatives from American Humane's Film & TV Unit were on the set to ensure that the animals were safe during filming. In each case, the advertiser worked closely with American Humane's highly trained safety representatives to ensure the safety of the animals in the production.
"Thanks to decades of leadership from American Humane, film and television directors, producers and actors rely on American Humane to ensure the safety of animal actors," said Karen Rosa, vice president of American Humane's Film & TV Unit in Los Angeles. "The fact that so many advertisers are calling on our services shows that across our society, there is recognition of the importance of the human-animal bond and the safety of animals."
Rosa noted that most TV networks will not air a commercial featuring an animal without American Humane's sign-off letter stating that the production did not harm any animals.

American Humane is a 133-year-old organization dedicated to preventing cruelty to children and animals. American Humane has exclusive authority to grant the "No Animals Were Harmed" end-credit disclaimer seen at the end of movies and television shows. All domestic productions working under the Screen Actors Guild (SAG) and American Federation of Television and Radio Artists (AFTRA) agreements are required to inform American Humane when using animal actors.
To see previous years' Clydesdale ads and other horse videos, click here >>