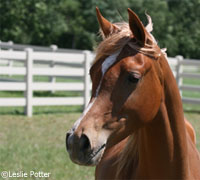 Arabian horse exhibitors from across North America will be in Scottsdale for the next two weeks to compete and enjoy the vibrant social atmosphere of the Scottsdale Arabian Horse Show.
The show is the de facto launch of the
Arabian
show circuit each year and is the first leg of the Arabian Triple Crown which continues with Canadian Nationals in August and
U.S. Nationals
in October. As the first major show of the season, Arabian enthusiasts often look to Scottsdale's results as a predictor of this year's national champions.
Nearly all disciplines will be represented in the three show rings at Scottsdale. The show features an extensive dressage/sport horse division as well as reining in addition to the more traditional show ring disciplines of halter, western, hunter and saddle seat. Classes are offered for purebred and registered half-Arabians.
When not in the show ring, exhibitors and spectators will have the opportunity to watch demonstrations by a variety of riders and other experts. Topics include preparing for sport horse competition, breeding problem mares, endurance riding and training police horses.
Scottsdale attendees also enjoy the vast vendor area where they can shop for jewelry, fine art and gifts in addition to tack, show apparel and other equestrian products.
All three rings of the show will be broadcast online and will be available for free, live viewing at www.iequine.com
For more information, including a full schedule, visit www.scottsdaleshow.com