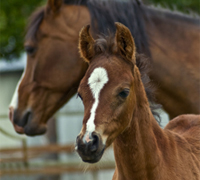 Beginning on Monday, February 15th and continuing through March 13th, Pennfield Equine Feeds is giving away free feed in their second major promotion of 2010.
Genetics predisposes a foal's success, but nutrition is what can make or break it. Pennfield is helping to give them and their owners a head start. For a limited time, it's Buy Four Get One Free on Pennfield's Foal's Choice, and Broodmare & Yearling's Choice, each designed to properly fulfill the protein, amino acids and balanced minerals needs of these special life stages. Plus, Pennfield is offering the same deal on Equinox Sales Prep formula, designed for young stock.
All of these breeding formulas feature the same standards of quality in formulas, consistency and ingredients as Pennfield's athlete formulas that were chosen to feed the U.S. teams for the most recent Olympic and World Equestrian Games ('02 Jerez, '04 Athens, '06 Aachen and '08 Beijing). Top international riders like Georgina Bloomberg, Michael Barisone, Phillip Dutton, Buck Davidson and many others have chosen to feed Pennfield to their competition horses. Let yours give it a try for a couple months, and see what they say. With every 5th bag free, it's a great time for new success with the world's most credentialed feed.
For more information, or to find a dealer near you, visit us at www.pennfield.com/equinefeed/promo.cfm or call 800-995-0333.