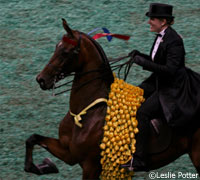 ASHA Horse of the Year is CH Our Charming Lady, shown here winning the 2009 Three-Gaited World Grand Championship. Photo: Leslie Potter
During the winter months, while most horses, owners and trainers have a break from the hectic show season schedule, many equestrian associations hold their annual meetings. This week, the American Saddlebred Horse Association will be hosting its convention in Lexington, Kentucky.
The convention activities begin today with an
American Riding Instructors Association
certification test center and a USEF judges' clinic. The convention officially begins tomorrow, February 18 with ASHA committee meetings throughout the day.
United States Equestrian Federation President and Olympic event rider David O'Connor will address convention attendees at a luncheon on Saturday. He will discuss the USEF's new drugs and medication rule changes and answer questions from members. During this time, O'Connor and leaders from the Saddlebred breed will present plans for the Saddlebred exhibit and promotion during this year's World Equestrian Games.
Equine and human stars from the Saddlebred world will be honored at several different events during the convention. At the Honoring Equitation Stars reception on Friday evening, the Association will recognize standout saddle seat equitation horses of the past and announce plans for recognition of great equitation mounts in the future.
The annual awards luncheon takes place on Friday when horses, ASHA charter clubs and breed supporters receive recognition for their achievements. Among the awards are FEI Discipline Awards which recognize Saddlebreds that have competed successfully in sport horse disciplines including endurance, hunter/jumper, eventing and combined driving. American Saddlebred horses competing in the pleasure divisions will receive recognition based on point accruals through the previous competition year. Local and regional charter clubs will be honored for their work in promoting Saddlebreds at the local level.
To learn more about Saddlebred horses and the ASHA convention activities, visit www.asha.net