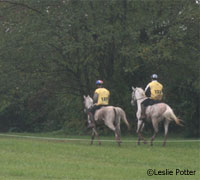 The North American Trail Ride Conference (NATRC) is the national governing body of competitive trail events in the United States. This year, members are meeting in Reno, Nevada for the organization's national convention.
Convention participants will attend several educational presentations. Topics include:
Recent Advances in Equine Nutrition
A New Look at Colic
Developing & Sustaining Relationships with Land Managers
Trails—Connecting People to the Land
Planning Successful Grassroots Trail Efforts
Unraveling the Mysteries of Tying-Up in Horses
American Endurance Ride Conference's Research Summit Update
Friday evening's concert and dance is a social highlight of the annual convention, and the daily trade show gives attendees a chance to shop for equine and trail riding products during downtime. Saturday evening's program includes the NATRC's national awards banquet.
This year's banquet will be bittersweet for many NATRC members due to the recent loss of a beloved equine member of the competitive trail community. Elmer Bandit, a half-Arabian and successful competitive trail horse from Missouri, was euthanized last week at age 38. Elmer competed with his lifelong owner, Mary Anna Wood, for 34 years. The impressive competitor logged a record-breaking 20,780 lifetime miles, including the two rides he completed last season at age 37. His owner and veterinarian made the decision to euthanize him when they were unable to get him to his feet after several hours of struggling in below-freezing temperatures. Elmer's longevity as a competitive athlete is regarded as a testament to good genetics, a devoted owner, and a lifetime of dedicated training and veterinary care. He will be honored at the NATRC banquet this weekend.
To learn more about competitive trail riding and the NATRC, visit www.natrc.org