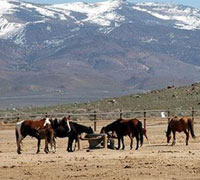 Wild horses in a holding facility in Nevada. Photo courtesy Bureau of Land Management.
In recent months, wild horse enthusiasts have been actively protesting the Bureau of Land Management's (BLM) Mustang and burro roundups on western rangelands. Last week, these protests reached Las Vegas and Nevada's capital, Carson City. The Las Vegas protest was organized to coincide with a visit by President Obama last Thursday in hope's of drawing the President's attention to the issue.
Opponents of the roundups state that the BLM's roundups are an outdated management tool that cause unnecessary stress, injury and death to the herds. The recent Calico Mountain Complex roundup, which drew criticism and high-profile protests, brought approximately 1900 horses off the range and into BLM custody. Of those, the BLM reports 47 equine deaths during and after the roundup due to injury or poor health.
The BLM is posting regular updates on the horses gathered from the Calico Complex on their website.
According to the BLM, the roundups are necessary because the land will not support the full population of wild equines. Because their natural predators no longer live in the region, the wild horse population goes largely unchecked, leading to the risk of starvation or clashes with encroaching human development.
After a roundup, horses are vaccinated and given basic vet and farrier care. From there, horses under age 10 are available for adoption at BLM events throughout the country. Older horses and those that are not adopted are kept in long term holding.
According to an msnbc.com article on the Carson City protest, opponents of the roundups suggest that the BLM could use birth control to help curb the population. They also suggest smaller roundups so that fewer horses will be held in BLM holding facilities while awaiting adoption.
For more information on the BLM's Wild Horse and Burro program, click here.