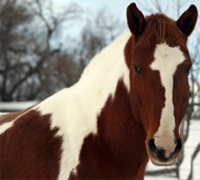 The eighth annual Pennsylvania Horse World Expo will bring the nation's leading equestrian clinicians and entertainers, and tens of thousands of horse owners eager to learn from them, to Harrisburg, PA, for four days of education, entertainment and shopping, February 25-28.
Horse World Expo is two events in one – the Expo itself, whose focus is training riders to train their own horses, and Theatre Equus, A Musical Equine Revue, a professionally choreographed and scripted show in which humans and horses partner to perform remarkable feats of daring and beauty.
Also Read: Maryland Horse World Expo Underway
Many of the country's most accomplished horse trainers present seminars on training by day, and dazzle audiences by night (Friday and Saturday only) with their amazing performances in Theatre Equus. Among them are:
• Trick trainer, movie trainer, stuntman and "Equine Extremist" Tommie Turvey, Jr., whose horses trust him so completely they accomplish dangerous stunts no other horse trainer has attempted. Those amazed by Turvey's performance during Theatre Equus, can, during his Pennsylvania Horse World Expo seminar, watch him teach his horses to do tricks like lying relaxed on their backs, feet in the air, before crowds of thousands.
• Stacy Westfall, the only freestyle reiner ever to compete without saddle or bridle, and the 2006 winner of and only woman ever to compete in the Road to the Horse young horse training competition.
• Matt McLaughlin, former Head Trainer for the Royal Lipizzaner Stallion Show and US Dressage Federation silver medalist, who also performs a 'top hat and tails' show during Theatre Equus.
Also on the Horse World Expo schedule are top national trainers Craig Cameron, Kenny Harlow, Bob Jeffreys, Suzanne Sheppard, Steuart Pittman and Kenny Harlow, among others.
Friday and Saturday nights, February 26 and 27, horse lovers of all ages will enjoy Theatre Equus, A Musical Equine Revue, the best entertainment the equine world has to offer. Geared to all ages, Theatre Equus features approximately two hours of family entertainment starring horses — part circus, part Wild West show, part equestrian ballet. Theatre Equus will feature about thirty of the country's most highly trained horses, accompanied by music, enhanced lighting and narration.
Returning to Horse World Expo for the third year is the Wind Rider Equestrian Challenge™, presented by Bob Jeffreys & Suzanne Sheppard. The Challenge is open to riders 14+ from all disciplines. Riders will be presented with challenges such as jumping a 2 foot jump, trotting or gaiting while balancing an object in one hand, and backing through and around barrels. The three top scoring participants will draw straws to be paired with a national clinician, to ride as teams for the title of Wind Rider Champion.
In addition to top equestrian clinicians and performers, the 8th annual Pennsylvania Horse World Expo will feature hundreds of vendors, and equines of all breeds and disciplines. Vendors will fill more than 500 booths and 180,000 square feet of exhibit space with an overwhelming selection of horse related merchandise for browsing and buying. Visitors can learn about a variety of breeds during the daily Parade of Breeds, and meet breeding stallions up close in Stallion Avenue. The latest in horsekeeping technology will be featured at the show along with apparel, barns, artwork, books, equestrian vacations, feed, trailers, tack, training, schools, and much more.
Daily admission is $12, $6 for children ages 7-12. Children under 7 are admitted free. Tickets are available at the door.
Reserved seating for Theatre Equus, which begins Friday and Saturday, February 26 and 27 at 8:30 pm, is $12 to $24 and is available at the show while supplies last.