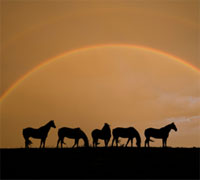 The equine community has been impacted by tough economic challenges over the past year. With job losses and shrinking budgets, horse owners have suffered and equine therapy and rescue groups have been hit hard as donations have become scarce.
Lucky Bucky® Clothing puts a new spin on an old saying with the "Pony Up – 'Cause You Care" campaign. The goal in 2010 is to help underfunded equine-related charities by providing tools to help create successful fundraisers. LBC will seek out registered, nonprofit organizations that offer equine-related therapy for mentally and physically challenged people or provide horse adoption or relocation programs.
It's time to "Pony Up" and help those in need. Lucky Bucky® will provide each selected organization with a "Tee Grant" consisting of six dozen custom printed t-shirts at no cost with the "Pony Up – 'Cause You Care" logo along with the organization's logo. This represents a value of over $1500. LBC's website will also offer "Fun Raiser Tips" to help organizations maximize their fund raising efforts.
How to Apply for the Pony Up campaign
Your organization must be a registered 501 (3) (c) nonprofit organization. Send a copy of your certification.
Submit your detailed event plan and include: description of the fund raiser, dates, jpeg photo(s) of your facility, and your goals and how the money will be spent for your organization.
Provide a central Point of Contact for your organization, shipping and mailing addresses, phone numbers, email addresses and website address.

Mail above to:
Lucky Bucky® Clothing
Attn: Pony Up Campaign
87 Old Molino Road
Fayetteville, TN 37337
Visit LuckyBuckyClothing.com/PonyUp or call 877-675-2256 for more information.