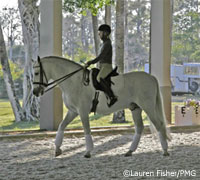 Mary Ann Grant and Tamaro will perform in the brand new figure skating and dressage exhibition at the 2010 Challenge of the Americas. Photo © 2010 Lauren Fisher/PMG.
The Ninth Annual Challenge of the Americas competition and gala is set to take place on Saturday, March 13, 2010, at the International Polo Club Palm Beach in Wellington, FL. Beginning at 5:30 p.m., the 2010 Challenge of the Americas (COTA) will be presented by International Polo Club Palm Beach (IPC) and MatchnRide.com. The evening will benefit the Breast Cancer Research Foundation.
An equestrian evening featuring musical team quadrilles performed by the "who's who" of top riders in the United States, Canada, Latin America, and Europe, COTA will be an exciting evening to benefit an excellent cause. In addition to the team quadrille dressage challenge, the evening's events will feature a special polo sweepstakes and a four-bar show jumping challenge. COTA chairmen Mary Ross and Tamara Gerber have big plans for this year's event and suggest performances that will be bigger and better than ever.
The Challenge of the Americas has evolved over the past six years; beginning in 2002 as an afternoon dressage exhibition/luncheon and growing to an under-the-lights international team challenge and Gala by 2005. Its success and continued growth throughout the equestrian community is due to its partnership in the fight against breast cancer, as well as to its unique and highly entertaining format.
"This year's challenge is going to be very exciting and we cannot wait to share all of the new performances and surprises," said Mary Ross, Challenge of the Americas Founder and Chairman. "Each year the challenge and gala bring in more people and more excitement, and it is so important that we acknowledge and help in the fight against breast cancer. This is a disease that affects so many lives, and so I am so proud of the impact we are able to have as we raise money for the Foundation."
This year, COTA will include a new figure skating dressage exhibition. The new performance, sponsored by Platinum Seamless, will feature a combination of dressage and figure skating unlike anything seen before. Four figure skaters will perform their graceful moves on ice set on the Polo Club's main field, with horses and riders performing around them.The horses and skaters will dance to the beats of the music in what skating director Nancy Mariano calls, "an absolutely beautiful and elegant dressage and figure skating spectacular."
"This is a very important evening to support because it helps raise money for breast cancer," Mariano stated. "It is very posh and it is an absolutely gorgeous event that has all the bells and whistles. The animals are stunning, it is for the who's who of the area, and I am just thrilled to be part of it."
Following The Challenge of the Americas will be an elegant evening of dinner and dancing at the Challenge Gala. The Challenge Gala, always a sell-out, will once again be held in IPC's spacious and decorative catering tent off Stanford Field. An awards presentation will be featured and guests will have the chance to meet and socialize with riders and judges.
For more information, please visit the Challenge of the Americas website, www.challengeoftheamericas.com