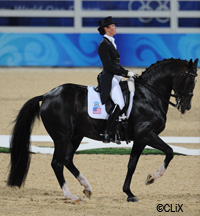 Courtney King-Dye, one of America's top dressage riders, is in the hospital undergoing treatment for a skull fracture. According to reports, Dye was knocked unconscious when a young horse she was schooling slipped, causing her to fall.
Dye's training operation is based in Millbrook, New York, but like many riders spends the winter season in Florida. She is currently being treated in the intensive care unit at St. Mary's Hospital in North Palm Beach where she is under sedation but said to be in stable condition. Dye's longtime coach and friend, Lendon Gray, reports that her condition is improving.
The Palm Beach Dressage Derby has launched a Courtney King Dye Medical Assistance Fund to help offset some of the medical expenses, starting with a donation from the VIP International Club.
Dye suffered tremendous loss just a few months ago when her star Grand Prix mount and Olympic partner, Mythilus, was euthanized due to inoperable colic.
At age 32, Courtney King-Dye has already worked her way to the top of the dressage rankings. She has worked for and trained with other legends of the sport including Lendon Gray, Conrad Schumacher and her 2008 Olympic teammate, Steffen Peters. With Mythilus and her other Grand Prix star, Idocus, Dye made a name for herself in the top tier of dressage competition.
Fans can leave their well-wishes on Dye's Facebook page.
UPDATE 3/9/10 9:00am EST
Anyone wishing to donate to the Medical Assistance Fund can make checks payable to:
Courtney King-Dye
c/o Lendon Gray
25 Lake Ave.
Bedford, NY 10506
In light of this accident, Grand Prix dressage rider Heather Blitz has launched a campaign to raise awareness of the importance of helmet use for riders of all disciplines. Read more on Blitz's website.
UPDATE 3/8/10 12:00pm EST
Dye's husband, Jason, has posted contact information on Courtney's website for anyone wishing to send cards or messages. At this time, she remains in a coma, but in stable condition.
Courtney Dye
2442 Muir Circle
Wellington, FL 33414
comebackcourt@gmail.com