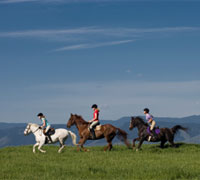 The Rocky Mountain Horse Expo will be underway in Denver, March 12-14, 2010, with fresh new programs and a line-up with appeal for a wide range of horse interests.
This year's featured clinicians include
Ryan Gingerich: Connect through "The Behavior Zone"
Curt Pate: Effective Stockmanship
Tammy Pate: Balanced and Intuitive Horsemanship
Karen Scholl: Horsemanship for Women
Charles Wilhelm: Success Through Knowledge Ultimate Foundation Training
Moses Woodson: Secrets of the Gaited Horse

Also featured in and out of the arenas.
Rick Lamb, of TV and radio's "The Horse Show"
Jeff and Gerrie Barnes: Skills for Ranch Versatility Competition
Jason Patrick: "New Beginnings" for a dozen rescued colts, all learning together
Entertainment and education add up to enjoyment.
The Mane Event: Two hours of excitement every evening, featuring equine acts, competitions, novelties and more. Everyone will enjoy this family-oriented show.
"Ride with the Experts": Participants invited! Equestrians can opt to ride with their choice of clinicians in one or more arena sessions.
Stallion Row: Presenting the region's elite stallions available for the 2010 breeding season.
The Eco-Horse: seminars and demonstrations on all aspects of "green" horse-keeping.

Everywhere at the Rocky Mountain Horse Expo, horses are the star attractions. In fact, horses will greeting visitors near the front doors and on the busy trade show floor, loafing in hospitable barns open during Expo hours, and of course, showing off in all the arenas. New for 2010, there will be an arena right in the stalling area, where you can catch clinicians and shows and enjoy refreshments at the same time. Rest assured—you won't go far without encountering a horse, or many of them, at the Expo.
Find all the information you need about presenters, schedule updates, details on Stallion Row, Mane Event and "Ride with the Experts" programs and more at www.RockyMountainHorseExpo.com. Vendor booths and exhibitor stalls available at attractive rates. Prefer to talk to someone directly? Call (303) 292-4981; the Colorado Horse Council is proud to produce the Rocky Mountain Horse Expo, and will be happy to answer your questions.