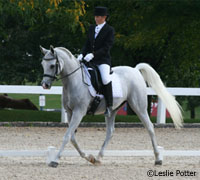 The Fédération Equestre Internationale (FEI) has announced the launch of its first ever official mobile phone application.
"FEI EquiTests", developed in close cooperation with Canada-based e-learning and visual communication design specialists Numen Communciations Inc., is a mobile application designed to help riders learn, reference and practice FEI Dressage tests. "FEI EquiTests", is available worldwide through the Apple iTunes store under FEI license.
For each test, the application allows iPhone and iPod users to:
Read the test instructions along with the marking criteria;
View Dressage animation diagrams that outline the movements of the test;
Record and play readings of the test that are perfectly timed to match the user's individual horses and the arena in which they are practicing;
Reference the official Dressage test score sheet to see where the judges' emphasis is;
Get better understanding of the FEI Rules as PDFs of the rulebooks on topics such as movement definitions, competition rules, dress code, judging and veterinary inspection are available;
Keep up-to-date with the latest Dressage news through the FEI news feed.
FEI EquiTests 1 is available for free, so that riders and coaches may evaluate the features available. This application includes all features related to one sample test: the globally used FEI Young Riders Individual Competition Test.
FEI EquiTests 2 includes all the most recent 2009 FEI Eventing Dressage Tests and is available for only $9.99.
Additional versions of FEI EquiTests featuring FEI Dressage and FEI Para-Equestrian Dressage tests will be launched later this year.
"Publishing the FEI Dressage test content for the iPhone and iPod Touch is a success story for EquiApps.com as it illustrates the quality and real-world functionality we are interested in publishing," said Tanya Heins of Numen Communications Inc. "Our goal is to establish EquiApps.com as the leading equestrian mobile application developer and provide digital learning and reference tools that make sense to an active outdoor equestrian lifestyle."
Other horse related iPhone apps are available from equiapps.com
EquiCalc helps you calculate your horse's weight by entering two measurements.
EquiTempo is a metronome for riders to help keep their horse's gaits steady and even.
EquiList is a digital checklist to use when packing for a show.
For more details visit the official websites at www.equiapps.com and the Apple ITunes store: FEI EquiTests 1 and FEI EquiTests 2.