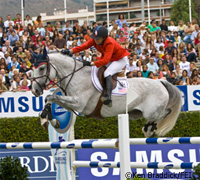 Laura Kraut, shown here on Cedric, will be one of the competitors in the Great Charity Challenge. Photo: Ken Braddick/FEI
Mark Bellissimo and his Wellington Equestrian Partners believe it is important to give back to the community, and so do many of the world-class and Olympic riders competing at the FTI Winter Equestrian Festival in Wellington.
Bellissimo and 23 other equestrian families are putting their money where their hearts are as two dozen charities with Palm Beach County connections will be the beneficiaries of the inaugural Great Charity Challenge on Saturday, March 20, at 7 p.m. at the Palm Beach International Equestrian Center.
The event, conceived by Bellissimo and his eldest daughter Paige, will link 24 of the world's top riders, including 2008 U.S. Olympic gold medalists Laura Kraut of Wellington, McLain Ward, Beezie Madden, and Will Simpson as well as Rodrigo Pessoa of Brazil and Eric Lamaze of Canada, and Olympian Lauren Hough, in a unique show jumping competition where all the prize money is donated to charity.
The 24 charities, selected from a pool of more than 60 charities, are (in alphabetical order):
Amanda J. Buckley Give A Smile to A Child Foundation
American Red Cross – Greater Palm Beach Area Chapter
A Second Chance Puppies and Kittens Rescue
Boys and Girls Club of Wellington
Caridad Center of Boynton Beach
Children, Hope, and Horses
Equestrian Aid Foundation
Families First of Palm Beach County
Firefighter/Paramedics Benevolent Fund
Hannah's Home of South Florida
Humane Equine Aid & Rapid Transport
Hospice of Palm Beach County
Jewish Adoption and Foster Care Options
Just World International
Leukemia & Lymphoma Society
Little Smiles
MS Cure Fund
Panther Ridge Conservation Center
Police Law Enforcement Assistance Foundation
Right to Play
Stand Down House
Step by Step Foundation
and Vinceremos Therapeutic Riding Center
YMCA of the Palm Beaches
The charities will divide at least $400,000 in prize money with the winning team earning 30 percent of the total donations, a minimum of $120,000. Second-place earns at least $80,000 (20 percent) and third place will receive at least $40,000 (10 percent).
The remaining 21 charities will split the pot, with each charity guaranteed at least $7,800.
"This is a great opportunity for equestrian families, the riders at the FTI Winter Equestrian Festival, and our organization to give back to the community and to worthy causes," said Bellissimo, CEO of Equestrian Sport Productions which owns and operates the world-famous jumping festival.
The competition will be a three-person relay race, with each team composed of two junior/amateurs, anchored by a world-class or Olympic rider. The fastest cumulative team time wins for their charity, which will be randomly assigned.
"This will be fun for everyone, from the riders to the spectators to the charities," said Lauren Hough of Wellington, a member of the U.S. team in the 2000 Olympics. "It's a great idea as a change of pace. I'm definitely looking forward to it."
Along with the $15,000 contribution from 24 families, which makes up the majority of prize money, there will be a special "charity bowl" where riders from the entire FTI Winter Equestrian Festival can donate any of their prize money that week, as well as donations from sponsors, vendors and spectators, according to Bellissimo.
Tickets are $20 each and available in advance by visiting www.equestriansport.com, on the phone at 561-793-JUMP, or at the gate. ESP will be donating all tickets sales and the final prize money to the 24 charities.