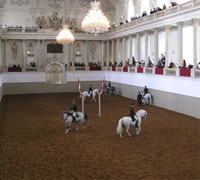 Photo: Wikipedia/Sparre
The world renowned Spanish Riding School of Austria has canceled several of its regularly-scheduled performances after many of the performance horses came down with a cough. The March 21 performance was canceled as well as performances for next weekend, March 27-28.
According to the School's spokesman, Erwin Klissenbauer, 10 of the 30 affected horses have recovered, but the performances will still be canceled to give the horses a chance to fully recover. The public is still welcome to visit the School for guided tours and to watch training sessions during the dates of the canceled performances.
The Spanish Riding School is known for its famous Lipizzaner stallions selected from the best stock at the Piber Federal Stud. Though they are born black, the horses mature to their trademark white coloring. The horses are trained in classical dressage and are known for their performance of the airs above the ground.
The School dates back to the 16th century and is the world's oldest school of equitation. Riders at the School start out as students, or Eleves, and spend approximately ten years in the School's training program before they are eligible to become riders. The School made headlines in 2008 when it accepted two women into the program for the first time in its history.