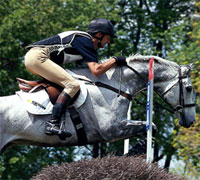 The city of London is gearing up for the 2012 summer Olympics, but controversy surrounds the choice of Greenwich Park as the site for the equestrian events.
The organizers chose the park as part of the plan to keep the Games compact, with all of the events held close to the main Olympic venue. The International Equestrian Federation (FEI) has supported this choice after the difficulties of the
2008 Beijing Olympics
, where the equestrian events were held several hundred miles away in Hong Kong due to concerns about effective quarantine for horses in China.
Additionally, Olympic host cities are notoriously left with large venues that are no longer worth their cost and upkeep after the Games have ended. The stadium for show jumping, spectator seating and cross-country course will all be temporary structures to help avoid this problem in London.
Since the initial proposal of Greenwich Park for the equestrian venue, there has been vocal and high-profile opposition. The No to Greenwich Olympic Equestrian Events (NOGOE) campaign cites a variety of reasons why Greenwich Park is an inappropriate location:
The Park will be closed to residents for a full month of the summer
The Games will cause traffic congestion and noise/light pollution for residents of the Greenwich Park neighborhood
Added public safety/security measures will be costly
Horses and foot traffic of spectators could cause damage to historic structures within the park, including undiscovered archaeology
Construction work could damage root structure of ancient trees
Grass on the site of the cross-country course may take years to recover
The debate over Greenwich Park has been going on for years and reached a fever pitch on Tuesday before the planning council's final decision to go ahead with plans to use the park. The decision was met with positive response from the equestrian community.
"The FEI is thrilled by the decision of the Greenwich Council's Planning Committee in regard to the planning application for Greenwich Park," FEI President HRH Princess Haya said in a press release.
"Greenwich Park is a spectacular venue which places equestrian sport right at the heart of the 2012 Olympic Games. With just over two years left until the Games open we are looking forward to working with LOCOG to showcase the sport to the world from this spectacular location in London," FEI Secretary General Alex McLin further commented.
London Organizing Committee Chairman Sebastian Coe said in a statement, "The message from tonight is loud and clear. This great park is on loan to the Olympic Games and Paralympic Games and the people of the world. We must return it to the residents of Greenwich, to Londoners and visitors from the UK and around the world in the same condition, or better, than it was loaned to us."
NOGOE may attempt to repeal the decision, but it has not made a decision at this time.