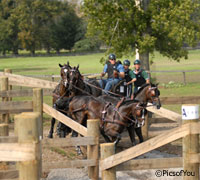 The Live Oak International will host the Single and Four-In-Hand National Championships, March 25-28 at Live Oak Plantation in Ocala. Photo: PicsofYou.com
The Live Oak International Combined Driving Event, the premier driving competition in North America, will host the Single and Four-In-Hand National Championships during the 2010 competition, March 25-28. Held at the picturesque 4,500 acre Live Oak Plantation in Ocala, U.S. Trust returns again as the title sponsor and thousands of spectators are expected to attend.
"Since this is the year of the
World Equestrian Games
in Kentucky, we are excited about hosting our largest field ever of Four-In-Hand horses," said Susan Gilliland, event director. "We should have three foreign drivers and at least 11 or 12 competitors from the United States, all vying for a spot on the U.S. WEG team. It should be very exciting."
Chester Weber, the reigning U.S. National Four-In-Hand Champion, will return to defend his title. Weber and his team have won the championship a record seven years in a row. Gilliland said three Four-In-Hand team members from the U.S. will be chosen for the WEG team and up to six individuals as the United States is the host country.
"In addition to the U.S. Four-In-Hand Championship, Live Oak will also be hosting the Single National Championships and those drivers are all hoping to secure a spot for the World Championships which will be held in Europe later this year," Gilliland said.
The upcoming event marks the 18th year for the Live Oak International, known for offering not only exciting carriage competition but also entertainment and shopping. Gilliland said tailgaters will have the chance to enjoy a bird's-eye view of the exciting marathon cross country course as well as enjoy a trade fair, a classic car show, a coaching exhibition and a 5K and 10K run on the final day, sponsored by the Marion County YMCA.
"Just like last year, the proceeds from the event will benefit the Marion Therapeutic Riding Association," Gilliland said. "We hope for another successful year!"
Weber will award a special Equilite Performance & Conditioning Award during Saturday night's competitors' party, with the winner receiving products from Arenus, makers of animal health products and supplements.
For more information about the Live Oak International Combined Driving Event, including a schedule of the events, visit their website at www.liveoakinternational.com.