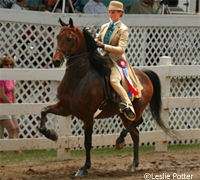 Top saddle seat equitation riders will compete at William Woods University in Fulton, Missouri this weekend in hopes of earning a spot on the U.S. World Cup team. The World Cup consists of a three-gaited and a five-gaited competition. Five team members and one alternate will be selected for each team.
The Saddle Seat Equitation World Cup began in the 1980s as a friendly competition between teams from the United States and South Africa. The title of World Cup was adopted in 1992 and the competition has been held every two years since then. In 1996, the World Cup became more formalized with official team selection procedures and five countries participating. The five-gaited competition was added in 1998. That same year, the International Saddle Seat Equitation Association (ISSEA) was established to provide a governing body for saddle seat equitation, which is not currently an International Equestrian Federation (FEI) recognized discipline.
Saddle seat is originally an American style of riding, but has grown internationally since the World Cup's early days. Five countries will be participating in the 2010 World Cup: United States; South Africa; Namibia; Canada; and Great Britain. The primary breeds used in saddle seat competition are Saddlebreds, Morgans, Arabians, National Show Horses and the South African Boerperd.
The selection procedures for the United States team begins with the previous year's show season. Automatic bids for the team selection trials are given to the winners of the following equitation finals:
UPHA Senior Challenge Cup
UPHA Senior Pleasure Challenge Cup
UPHA Adult Challenge Cup
UPHA Senior Arabian Challenge Cup
UPHA Senior Morgan Challenge Cup
UPHA Senior National Show Horse Challenge Cup
USEF Saddle Seat Medal
USEF Adult Saddle Seat Medal
NHS Good Hands Saddle Seat Event
Additionally, the American Morgan Horse Association, Arabian Horse Association and National Show Horse Registry each nominate an outstanding equitation rider from their breed to compete in the selection trials.
For the five-gaited team, automatic bids are offered to the winners of the Saddle and Bridle Five-Gaited Horsemanship Final and the National Show Horse Five-Gaited Final.
Riders who are interested in trying out for the team but did not receive an automatic bid for the selection trials may submit an application. Applications will be accepted to fill the remaining spaces for a total of 20 riders to try out for the three-gaited team and 10 riders for the five-gaited team.
The finalists will compete this weekend riding four different horses to demonstrate rail work and pattern work. They will ride horses owned by William Woods University to ensure a level playing field as none of the riders will ride a horse they have ridden before. The selection procedure also includes an interview by the judging panel.
The 2010 Saddle Seat Equitation World Cup Finals will be held at the Kentucky Fall Classic in Shelbyville, Kentucky From October 6-8. For more information visit www.saddleseatworldcupusa.com