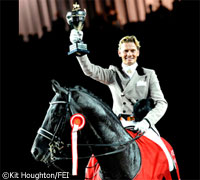 Edward Gal and Moorlands Totilas lived up to expectations when claiming the honors at the 25th anniversary FEI World Cup™ Dressage Final in s'Hertogenbosch this afternoon. Photo: Kit Houghton.
The Netherlands' Edward Gal and the super stallion Moorlands Totilas overcame all the pressure and tension to claim the 25th anniversary FEI World Cup™ Dressage title in s'Hertogenbosch this afternoon. Gal's stallion was tipped to take the honours throughout the entire 2009/2010 FEI World Cup™ Dressage season during which he secured his third record-breaking score of 2009 at London Olympia last December. But two days ago fellow Dutch rider Adelinde Cornelissen took advantage of an edgy test from her teammate to win the preliminary Grand Prix with a great performance from Jerich Parzival, and for the first time in a long while, Gal's stallion began to look vulnerable. Today however, he was considerably more composed as he strutted his way to victory by a margin of almost seven percentage points – "when I came into the arena I thought it could be better – and it was!" said the relieved 40 year old rider who clinched the trophy for The Netherlands for the tenth time.
Brett Parbery made his trip all the way from New South Wales in Australia worthwhile when opening the Freestyle to Music finale with a great rhythmic test from the 14 year old Victory Salute which earned a mark of 70.55%, but, second-last to go before the half-way break, Germany's Carola Koppelmann and her veteran 17 year old Le Bo put 73.20% on the board. However it was Princess Nathalie zu Sayn-Wittgenstein who was in the lead going into the second-half of the competition after producing a relaxed, pleasing performance from Digby that achieved a score of 75.15%.
That remained the target until Cornelissen and Parzival set off four horses later, and the chestnut gelding's easy elevation, natural rhythm and powerful movement was complemented by a creative new routine that particularly highlights his athleticism in pirouette. However Cornelissen admitted afterwards that she had only practised the routine once before today's competition, and that her mistake in the one-tempi changes, when Parzival simply stopped executing them, was entirely her own. "It was quite a risk, I kept thinking about where I was in the test and I stopped asking him to do the changes so he stopped doing them, but then I remembered again and he continued – it wasn't his fault, it was completely mine!" she insisted. However she finished with a dramatic flourish when following a canter pirouette to the right with another to the left and her score of 82.85% put her well out in front.
Isabell Werth's settled and accurate test from Warum Nicht left the German double World Cup champion temporarily in runner-up spot with a mark of 79.85% but she was immediately demoted by The Netherlands' Imke Schellekens-Bartels whose elegant mare, Hunter Douglas Sunrise, has been performing at her very best this season. "She was so good and so loose, she has never felt better and I am so happy – she has been in the best form life this year" the rider said.
Sweden's Patrik Kittel was the penultimate rider to take his turn and, a big hit with the s'Hertogenbosch spectators this week, rode a test they again thoroughly enjoyed although, to their dismay, it only put a score of 76.55% on the board, so when Gal and Totilas set off it was the target set by Cornelissen and Parzival they were chasing. Gal was concerned that his horse would again become over-excited as he passed the crowd on his way into the arena as had happened two days earlier, but to his delight Totilas was much more concentrated and began with extended trot that displayed all of his trademark extravagance. "I could feel it was going to be better, and in the middle of the test I started to breathe again and it was much more relaxed" he said afterwards. He sets such high standards for himself and this horse that nothing less than excellence will do – "that's part of the pressure of riding him" he explained later. As his mark of 89.80% went up on the board however he knew he had done more than enough – the 2009/2010 FEI World Cup™ Dressage title was safely in his hands.
Isabell Werth has high standards too, but she acknowledged today how high the bar has been raised in the sport over the past 12 months. "The Dutch riders are strong, but we don't give up – we will just fight to get closer and closer to them" she said. Ground Jury President Mrs Francis Verbeek commented "the riders all did a super job and I was so pleased for Edward that he could come back from a not-so-good test on Thursday but I also want to congratulate our local hero Imke Schellekens-Bartels who did so well". Imke explained that her challenge with Sunrise is to ride the thin line between relaxation and impulsion – "I believe I can still improve on that, and I must try if I want to keep up with my other Dutch team-mates!" she said.
For Gal however today's win made up for the deep disappointment of Thursday's Grand Prix result and put Moorlands Totilas back in his rightful place. "I know he's special and he deserves to win, and on Thursday I was so upset for him and so surprised when he was tense because he's not usually like that. The thing about him is that he has so much power, and sometimes he can use it against you. Today he worked with me instead and I am very, very happy!" he said.
RESULT:
1, Moorlands Totilas (Edward Gal) Ned 89.80%
2, Jerich Parzival (Adelinde Cornelissen) Ned 82.85%
3, Hunter Douglas Sunrise (Imke Schellekens-Bartels) 82.15%
4, Warum Nicht (Isabell Werth) Ger 79.75%
5, Watermill Scandic (Patrik Kittel) Swe 76.55%
6, Digby (Nathalie Zu Syan-Wittgenstein) Den 75.15%
7, Le Bo (Carola Koppelmann) Ger 73.25%
8, Triviant-Unicef (Matthias Alexander Rath) Ger 72.05%
9, ApolloVan Het Vijverhof (Jeroen Devroe) Bel 71.85%
10, Victory Salute (Brett Parbery) Aus 70.55%
11, Edwador (Katarzyna Milczarek) Pol 68.90%
12, Favourit (Tinne Vilhelmson-Silfven) Swe 68.25%
13, Randon (Michal Rapcewicz) Pol 67.10%
14, Cointreau (Peter Gmoser) Aut 66.45%
15, Samba (Luiza Almeida) Brazil 61.55%