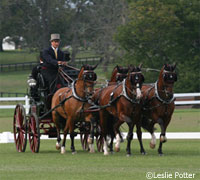 With impending storms looming, the fourth and final day of the Live Oak International presented by US Trust featured a difficult cones phase and clear rounds were hard to find. But the best drivers in the US prevailed and two USEF National Champions were crowned based on their incredible three phase performances.
Also Read: Chester Weber Wins Eighth Consecutive Four
A massive storm held off until the final few drivers, and then the weather deteriorated quickly. Chester Weber and Jimmy Fairclough had the option to wait out the weather, but as they were warmed up and ready, they both decided to drive. The weather got worse so their choice proved wise as the Organizing Committee ended up being forced to cancel the final two classes of the afternoon.
Weber's road to his record eighth USEF National Four-in-Hand wasn't without incident; he used all of his experience to get out of a difficult situation at one of the hazards in Saturday's marathon, the only blemish on another fantastic performance. He then had the only double clear round in the Cones so his final phase in the pouring rain was remarkable.
"Yesterday's problem made it hugely obvious to see that nothing is for sure," said Weber about breaking a record he set in 2009 for the number of national championship wins.
Weber used the opportunity to put two of his pairs together, but it was the first time he had driven all four in the cones as one team.
"I drove Grumus and Para in the wheel and Horace and Boy in the lead," said Weber. "The first time I ever drove them in the cones was about an hour before they went in the ring."
The gamble proved not to be one, and Weber hopes that the dynamic foursome will be his cones team for WEG.
"My plan has always been to drive them together, but that was a little nerve-wracking," said Weber after a phenomenal performance.
A steely veteran of the sport, Weber has had a lock on the National title for the better part of a decade. He is also the reigning Individual Silver medalist from the 2008 FEI World Driving Championship and, like the rest of the four-in-hand world, has his focus firmly set on the 2010 Alltech FEI World Equestrian Games (WEG).
Despite having won eight straight titles, winning on his family's Live Oak Stud is special but it is not easy.
"It's really nice, there are a lot of local people who have watched my drive, they see me driving up and down the road and at the local shows. It's a great community event," said Weber. "But it is a lot of work; I think it's a little confusing for the horses. The rest of your life doesn't stop."
Jimmy Fairclough wasn't going to let Weber take the honors without a fight. Fairclough won the marathon and got within 12 points of Weber. Driving Jane Clark's team, Fairclough had an unfortunate incident in the Cones.
His leaders spooked at the bridge and then slipped badly into the other horse. It then pushed the wheelers into the corner of the bridge and got the railing caught in the carriage, his horses handled it professionally and stood stone still while they freed the carriage. He had 10 seconds added to his time for the repair but then finished his round without further incident and finished only a couple of seconds slow.
"I came around the turn a little fast," said Fairclough. "The leaders looked at the bridge and one went to go and slipped and fell right into the other horse. The rest was really good, after that I was only a couple of seconds late."
Fairclough also has planned his season around this autumn's WEG and was driving a brand new pair of leaders this weekend.
Leased from Keady Cadwell, Uniek and Splash proved their mettle this weekend in all three phases.
"I would rather have it happen here than at WEG," said Fairclough. "This was good except for what happened. That spot was really slippery."
Robin Groves hung on to her spot in the USEF National Single Horse Driving Championship and took the top honors with Thors Toy Truck after a brave driving effort in the Cones section topped off a very professional effort over the three phases.
"It's been a wonderful weekend," said Groves. "I was a little disappointed with the dressage but I was happy with the score. The rest was everything I could ask for."
Groves (Brownsville, VT) was third after the dressage phase, and rocketed to the top after a stellar marathon phase on Saturday and then had one ball down in the Cones. Her three phase score of 139.72 left her with an incredibly narrow lead over Leslie Berndl.
"I had some nerves about two hours before I went when I was out grazing my horse," said Groves. "But I got rid of them; I am kind of cold-blooded that way."
Bred by Lana DuPont who gave the 15-year-old veteran to Groves last year, Thors Toy Truck is a total professional – the Connemara/Thoroughbred gelding was focused and attentive throughout the cones.
"He's a tough little character," said Groves. "He is actually the nephew of Kim (Stover's) horse."
Thors Toy Truck was runner-up in 2009, and he won the National Championship in 2007. Groves hopes for a spot on the FEI World Single Driving Championship team in Patroni, Italy in the late summer, but will head to Southern Pines CDE in two weeks and then on to Garden State to keep polishing her performance.
"It was a really good day," said Groves. "Always there's luck too, it can be your moment and then something changes."
Berndl won the dressage phase with Fritz Grupe's Uminco on Thursday, and 'Travis' was the 2009 National Champion with Grupe. He recently handed the reins to Berndl and the pair has quickly forged a strong partnership. Despite picking up a few extra penalties on the marathon they drove a stellar cones round to add nothing to their score and finish on 140.11 for the three phases.
Brendl has practically doubled her time driving Travis since the competition began. She had driven him five times before Thursday's dressage phase.
"He's a great horse," said Berndl after her dressage test. "He's really sweet."
Kim Stover kept her third place spot in the overall standings with a consistent performance in a very competitive division all weekend. She won the marathon to climb back from after the first phase. Laughlin is only nine years old and although he too was somewhat spooky at the bridge, Stover was proud of how he handled the atmosphere and had one time fault.
"My mission was to go double clean," said Stover. "I was one second over the time – he didn't like the bridge, but he got over it. He's still young and he's half thoroughbred so with this crowd I had a lot of horse in front of me."