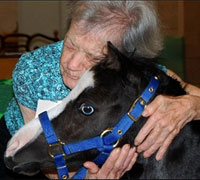 Magic the Miniature Horse has been named the "Most Heroic Pet" in an AARP-sponsored contest. Photo courtesy Gentle Carousel Therapy Horses
A Miniature Horse in Florida has been recognized for her ability to work miracles for patients in hospitals, hospices and other facilities.
Magic is a four-year-old mare with distinctive blue eyes. With her owner, Jorge Garcia-Bengochea, she visits young cancer patients, elderly hospice residents, abused children and others as part of Gentle Carousel Therapy Horses.
Magic, like many of Gentle Carousel's horses, was born into the program and began her therapy horse training as a baby. As part of her job duties, she must handle walking up stairs, riding in elevators, and remain calm around wheelchairs and other hospital equipment. Her primary duty is to quietly accept love and affection from the people she visits.
In 2009, The American Association of Retired Persons (AARP) Magazine launched its "Most Heroic Pet Contest." Magic was the only horse selected as a top ten finalist among a field of eight dogs and one cat. AARP Magazine readers were invited to vote for the overall winner in early February, and Magic came out on top.
Photo courtesy Gentle Carousel Therapy Horses
Though her list of accomplishments is already long, one story in particular brought Magic the winning votes. During a program at an assisted-living facility, Magic visited Kathleen Loper, patient who hadn't spoken since arriving at the facility three years earlier. Upon seeing Magic, Loper said, "Isn't she beautiful." She has reportedly been conversing with staff at the facility ever since.
"They're the bridge," says Ann Marie Malave, Regional Acitivty Coordinator and Community Liaison for the facility. "They connect to our residents with maybe a memory, a feeling, something that they've done in their lives. It's just such an experience. There are no words to describe it."
Learn more about Magic and Gentle Carousel at www.horse-therapy.org