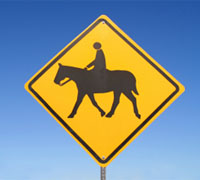 The 17th annual Equine Affaire of Columbus, Ohio runs next weekend, and tickets are still available for those wishing to attend.
Equine Affaire hosts top level riders and clinicians alongside its expansive trade show. This year's clinicians include
Linda Allen
Chris Cox
John Lyons
Craig Cameron
Tommy Garland
Richard Winters
Caroline Rider
Scot Hansen
Stacy Westfall
A New Trail Riding Pavilion Awaits
With retail and educational exhibits and a comprehensive program of demos on topics relating to trail riding and trail use, Equine Affaire's new Trail Riding Pavilion in the Voinovich Center will provide everything you need to enhance your trail riding experience. Whether you want to shop for trail riding equipment, research public trails, garner tips on trail riding safety, or join a trail riding club, the Trail Riding Pavilion will be the best place to prepare you and your horse to "hit the trail."
Experience the Pfizer Fantasia
Equine Affaire's flagship entertainment spectacular, the equestrian extravaganza Pfizer Fantasia, will take place at 8:00pm on Friday and Saturday nights in the coliseum. This special equine musical revue will feature a star-studded lineup of professional equestrian performers and exceptional horses choreographed to a wide variety of musical styles. At the 2010 Pfizer Fantasia Equine Affaire is especially pleased to feature David Donnert with Chief Bear Paw IV….the sensational trick horse owned by the late horse-training legend, Gaylord Maynard. Enjoy the beauty and diversity of horses of many breeds as well as the excitement of equestrian sports including reining, dressage, driving, drill teams, vaulting, and more.
From Appaloosas to Zebras (Well, Almost)
There may not be any Zebras at Equine Affaire, but you'll find representatives of dozens of breeds from around the world at the Cashman Breed Pavilion and Horse & Farm Exhibits area. Whether your heart beats faster for a Mini or a Morgan, a stock horse or a sport horse, you'll find it at Equine Affaire—along with friendly, knowledgeable breeders and association representatives who'll answer your questions about characteristics, uses, bloodlines, and selection. There will be a rotating cast of stallions, mares, and geldings presented daily in the Cashman Breed Pavilion and showcased in breed spotlights in the main arenas throughout the weekend.
Learning and Fun for All Ages
Explore a special place for horsey kids of all ages at the Youth Pavilion in the Celeste Center. In addition to educational and horse-related youth association exhibits, the Youth Pavilion will feature a full schedule of presentations by many of the horse industry's most popular educators, demonstrations of horse breeds, daily stick horse rodeos, and many other fun activities for kids. Do a little elbow-rubbing at the Celebrity Horse Showcase, where you'll meet equine movie stars as well as "breed stars" from different corners of the horse world.
Test Your Equestrian Savvy and Skills
Equine Affaire is teaming up with Craig Cameron to present his Extreme Cowboy Race on Thursday and Friday afternoons and Sunday morning in the coliseum at Equine Affaire. As seen on RFD-TV, the Extreme Cowboy Race is a competition in which horse and rider teams race through an obstacle course while being judged on their horsemanship abilities. You won't want to miss the action at this extreme competition as 36 teams put their horsemanship skills to the test negotiating some tough challenges for both horse and rider!
Efficient and Amazing One-Stop Shopping for Horse Lovers
What's a horse-fest without shopping? Lace up your most comfortable shoes and hoof it around the largest equine-related trade show in North America. This year's event will feature more than 450 vendors offering everything from tack and apparel to horse-care items and trailers. Whether you're planning to build a barn, replace a fence, or install a riding arena or you want to research a new equine discipline, you'll find information, manufacturers, dealers, associations, and other sources at Equine Affaire. And with spring right around the corner, you'll have the perfect opportunity to get you and your horse prepared for the upcoming pleasure riding and competition season.
For more information, visit equineaffiare.com or call 740-845-0085