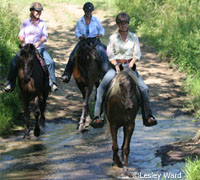 The American Competitive Trail Horse Association and The Humane Society of the United States are working together to launch the Ride for the Rescues on June 13, 2010. The organizers are hoping attract more than 3,000 participants to set a world record for the largest competitive ride ever held.
The goal of all ACTHA rides is to provide a safe, casual environment for people to enjoy their horses while raising awareness of and funds for homeless and at-risk equines.
"The plan is quite simple—hopefully one or more ACTHA sanctioned ride in every state, with all proceeds going to horses in need" states Karen VanGetson, an ACTHA co-founder and head of operations.
In the process, ACTHA hopes to enter the Guinness World Records™ for the most people competing in a one-day trail ride.
"ACTHA has been working to turn this ride from an idea into reality for almost a year. Finally, with The HSUS' built-in network of supporters and diverse array of programs to help homeless horses, we became confident that this was possible. ACTHA has always donated to equine welfare charities, and this ride will help many homeless horses," said Tom Scrima, general manager of ACTHA.
"This will be one of the most efficient and cost-effective ways to funnel resources to where it will do the most good, programs that aid at-risk and homeless horses," said Scrima.
"We are so grateful that ACTHA has chosen to support our equine protection efforts," said Keith Dane, director of Equine Protection for The Humane Society of the United States. "ACTHA has a proven record of supporting equine welfare and advocating for the humane treatment of horses and we are proud to collaborate with them."
"ACTHA is on schedule to put on 1,000 rides this year from coast to coast with hundreds of thousands of dollars raised with and for equine charity. This one day, June 13th, 2010, will indeed be special…to see the check written and delivered will be the high point of the year for all ACTHA's staff, members and our wonderful sponsors" said Tammy Sronce, two-time World Champion and part of ACTHA's team.
Volunteers and breed associations who wish to help in the effort, from local ride management to assisting on ride day are asked to call or write ACTHA. 877-42-ACTHA or email tom@actha.us
visit www.actha.us to find a ride near you.