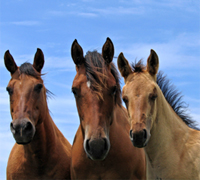 Grounds Pass tickets for the 2010 Alltech FEI World Equestrian Games will go on sale Friday, April 16 at 10 a.m.
Grounds Pass tickets will be priced at $25 each, but from April 16 through May 31, as a special promotion, tickets will be available for $20. Each Grounds Pass will allow entry to the 2010 Games venue for the selected date of purchase. To provide for an affordable, family-friendly event, admission for children 12 years of age and under will be free of charge when accompanied by a paying adult.
A limited quantity of Flex Grounds Pass tickets will be available for $30. The Flex Grounds Pass can be used for entry on any one day of choice, without selecting a specific date of attendance at the time of purchase.
Kentucky residents will be able to purchase Grounds Pass tickets for $15 on April 15. That offer only lasts one day.
Tickets will be available for purchase through www.alltechfeigames.com/tickets, on www.ticketmaster.com, at any Ticketmaster outlet and via the Ticketmaster hotline at 1-800-745-3000.
Grounds Pass tickets allow entry to the 2010 Games for the selected day of purchase and will give spectators access to a wide range of activities at the Kentucky Horse Park venue. Activities include shopping at more than 250 Trade Show booths; exciting exhibits and entertainment at the Kentucky Experience tourism pavilion and the Alltech Experience pavilions; and the Kentucky Horse Park's world-renowned exhibits and museums.
In addition, spectators will be entertained and educated in the Equine Village, which will present more than 40 exhibitors and some of the world's top equine entertainment acts and clinicians, including Pat Parelli, Clinton Anderson and the kid-friendly Equimania.
Grounds Pass tickets are available for 13 days during the Games, excluding the competition days of Endurance, Eventing Cross Country and Driving Marathon. Spectators who wish to purchase admission for these competitions should visit www.alltechfeigames.com/tickets.