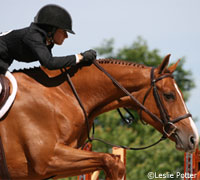 Many of the top equestrian student athletes in the country are competing this weekend at the NCAA Equestrian National Championship in Waco, Texas. The championship includes team and individual competition in both western and hunt seat.
Varsity equestrian is a fairly new addition to the NCAA, having launched in 1998. It is still classified as an emerging sport as there are only 23 varsity equestrian teams, and 40 teams are required to bring a sport to full championship status.
NCAA equestrian competition is different than the more widespread Intercollegiate Horse Show Association (IHSA) competition. In the NCAA, equestrian is a women's sport. Many of the riders on these teams are receiving athletic scholarships for their equestrian participation. However, the NCAA places restrictions on how many competitions, intercollegiate or otherwise, its riders may compete in during the year. They are also not allowed to win prize money at shows.
Teams and riders must qualify for the championships through regional competition. Individual champions will be named in four different divisions: Equitation on the Flat; Equitation over Fences; Western Horsemanship; and Reining. Team championship titles are awarded in the broader categories of hunter and western.
Last year's hunt seat champions, the University of Georgia, and western champions, Texas A&M, will be back to defend their titles this year.
NCAA Equestrian uses a bracket system similar to NCAA Basketball. The teams are seeded based on their regular season performance, and will be paired off in competition using the same group of horses as the team they are competing against.
Click here to see the hunt seat team bracket.
Click here to see the western bracket.
Click here to see the individual brackets.
The following teams, in order of seed, have qualified for the 2010 NCAA Equestrian Championship.
English Teams

Western Teams

University of Georgia
Auburn University
University of South Carolina
Texas A&M
Baylor University
Oklahoma State
University of Tennessee
Fresno State
New Mexico State
Kansas State
Southern Methodist University
Texas Christian

Texas A&M
Auburn University
Oklahoma State
Texas Christian
University of Georgia
Kansas State
New Mexico State
Fresno State
Baylor University
University of South Carolina
Delaware State
South Dakota State
Read more on riding in college >>