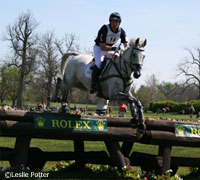 Oliver Townend at Carousel Quest compete at the 2009 Rolex Kentucky Three-Day Event. Photo: Leslie Potter
It is once again time for the Rolex Kentucky Three-Day Event, the only four-star level eventing competition in the United States. Crowds will descend upon the scenic Kentucky Horse Park in Lexington, Ky., from April 22-25 to see some of the world's best horses and riders compete. Any horse lover within a reasonable traveling distance should see Rolex at least once; in addition to the event, there are hundreds of equestrian shops, beautiful scenic drives, and lots of Horse Park activities to explore.
This year's competition carries particular importance for two reasons. To begin with, it is the first year the
FEI World Equestrian Games
(WEG) will be held outside of Europe–and they will be held at the Kentucky Horse Park, under the title sponsorship of Alltech, beginning September 25, 2010. The Games have been held every four years since 1990. Top competitors will be hoping to give their horses a sneak preview of the Games, and show their national selectors a good performance in hopes of making the team that will represent their country at the WEG.
The second reason spectators will want to take note is that Great Britain's Oliver Townend, 27, is eligible to win the $350,000 "Rolex Grand Slam" bonus. To cash in, a rider must win three four-star events in succession (though not necessarily in the same calendar year): the Mitsubishi Motors Badminton Horse Trials, Land Rover Burghley Horse Trials and Rolex. He won the first two in May and September, 2009, aboard Flint Curtis and Carousel Quest, respectively. Townend would become only the second rider to accomplish the feat, the first being Pippa Funnell in 2003.
In a March 9 interview with U.S. media, Townend stated that he would only be bringing one horse, new ride Ashdale Cruise Master, to Rolex. The horse's regular rider, Emily Gilruth, recently had a baby and handed the reins over to Townend for the time being.
"We decided a month ago that it probably wasn't in Carousel Quest and Flint Curtis' best interests to travel to the other end of the world at this stage in their life and their career," said Townend during the teleconference. "We're going to give them a quieter time, seeing as they've been the main two boys for the last few years in my yard. Possibly they'll turn up at Kentucky later in the year at the World Equestrian Games. But we really decided they were going to take a step back this spring and give some of the younger horses a chance to come through and prove how good they are."
During the Rolex entry period over the month that followed, Townend entered Ashdale Cruise Master, ODT Master Rose and Carousel Quest for Rolex, but Carousel Quest was later withdrawn, leaving the other two as his final picks for a run at the Grand Slam.
Townend said of Ashdale Cruise Master: "The only problem for me at this point in time is the dressage and getting to know him. The dressage is his weak phase. To win the likes of Rolex Kentucky, then we need good dressage. Apart from that, he's a very good jumper. He's got plenty of scope and plenty of gallop." One thing is for sure–Townend is a tough competitor who is sure to put it all out on the line for a chance to become an eventing legend by winning the Rolex Grand Slam.
Other names that will be familiar to fans at this year's Rolex include Phillip Dutton, who has three horses entered: Kheops du Quesnay, The Foreman and Waterfront. Although 2008 Rolex winner Connaught, 2009 runner-up Woodburn and previous Rolex mount TruLuck were originally entered too, those three were later withdrawn. Still, Phillip is one of the best riders the sport has ever seen, and is sure to find a high placing with at least one–if not all–of his mounts.
Karen O'Connor, who won the Rolex four-star in 1999 with Prince Panache, will be competing this year aboard the young Mandiba, who had a shaky showing at the 2008 Olympic Games. There is no question of the horse's talent, however, so he'll be one to keep an eye on.
2008 Rolex runner-up Becky Holder will be back aboard her bold, gray off-the-track Thoroughbred, Courageous Comet. Last year's third-place finisher, Bruce (Buck) Davidson Jr., will return on a different mount, the gray Titanium. Yet another gray to watch will be Tipperary Liadhnan, piloted by three-time Rolex four-star winner Kim Severson. The pair placed fifth in 2008.
Amy Tryon, who has finished as high as third at Rolex (in 2002 on her famous Poggio II) will be represented with two horses, Leyland and Coal Creek.
Other international superstars, such as William Fox-Pitt, and a slew of young up-and-comers will keep the competition on their toes throughout the four days. Visit www.rk3de.org for more information, and follow along on HorseChannel.com for daily wrap ups.