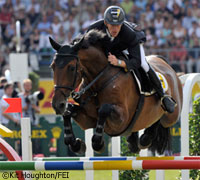 Marcus Ehning and Noltes Kuchengirl. Photo: Kit Houghton/FEI
Germany's Marcus Ehning celebrates his 36th birthday today as the newly-crowned 2010 Rolex FEI World Cup™ Jumping champion. This was his third time to take the prestigious Rolex title and he said "it's really unbelievable – I thought I was too far behind going into the last round but this is how it works out – I am so happy!"
Germany dominated the podium when Ludger Beerbaum produced one of just four double-clear performances in today's competition to finish joint-runner-up with Switzerland's Pius Schwizer.
Course designer Rolf Ludi presented two more classic tests, but only seven of the 29 starters went clear in the first round and when Mario Deslauriers, competing for the U.S., and his brilliant nine-year-old Dutch gelding Urico were amongst them it further bolstered their position at the top of the leaderboard after the first two legs. When Ehning's Plot Blue clipped the very last – a wall with beautifully-carved Swiss cows decorating the top of it – then it seemed his chances were gone. With only four points separating the top four riders going into the final day every mistake was critical, but mistakes from third-placed Schwizer and fourth-placed Patrice Deleveau of France, meant that Ehning only slipped one place to third at the end of the opening round of jumping.
Ahead of him now was Portugal's Luciana Diniz who set the opening competition alight with a super speed round from Winningmood last Thursday and whose grey stallion showed fantastic form again today when effortlessly clearing the first-round track to rocket up the order. She was lying five points off Deslauriers' lead as the second round began over a completely new course, with Ehning in third, and Schwizer sharing fourth with Beerbaum whose mare, Gotha, made it all look elementary first time out.
It fell apart for Deleveau when Katchina Mail had two down over the final track, but clears from both Beerbaum's Gotha and Schwizer's Carlina left them on level pegging and piled the pressure on the remaining three.
Ehning's 13-year-old stallion was rock solid this time out however and when they crossed the line with nothing to add they threw down the gauntlet for the top two. Diniz had little room for error with only a single-point advantage over the German two-time World Cup title-holder and although she survived a good rattle at the opening vertical her luck ran out when Winningmood hit the vertical at fence 10, just two from home. Like Diniz, who changed from Brazilian nationality to ride for Portugal in recent years, Deslauriers recently opted to ride for the USA instead of his native Canada. And the 45-year-old rider was hoping to bring home the coveted Rolex FEI World Cup™ Jumping title to the US for the first time in 22 years. But the nine-year-old Urico, who had been so consistent all week, seemed to lose his rhythm halfway round the track and three fences down dashed the dream of reclaiming the title he previously won a full 26 years ago. In the final analysis he had to settle for sixth place while Dermott Lennon enjoyed a meteoric rise up the leaderboard from joint-14th to finish fifth after two stunning rounds with Hallmark Elite who seems set to return the quiet Irishman to the top end of the sport after a long absence since his World Championship title win eight years ago.
Diniz slotted into fourth behind Schwizer and Beerbaum in joint-second place. The champion's glory all belonged to Ehning once again.
Top American horse eliminated
The United States' best hope for a top placing at this World Cup was with the talented mare Sapphire and her rider, McLain Ward. After two clear rounds that put the horse-and-rider team in first place, Sapphire was eliminated from competition due to hypersensitivity in one pastern.
The mare was one of the horses selected for thermography and clinical examination at the start of the second round of competition. The thermography tests came back negative, but the clinical exam showed hypersensitivity on the left front pastern. The tests were repeated two hours after the end of round two with the same results. Though Sapphire had been allowed to jump in the second round, the Ground Jury made the decision to retroactively disqualify her from that round on, negating the scores that had put the pair in first place. Ward was left with little recourse as there is no appeals process in place for elimination due to hypersensitivity.
At this time, the FEI is not accusing Ward of any intentional wrongdoing, but stress that their role is to ensure the safety and welfare of competition horses.
The USEF team veterinarian, Tim Ober has spoken out on behalf of Ward, stating that the Ground Jury's decision to eliminate Sapphire was done hastily and was unsubstantiated. He criticized the FEI for refusing to conduct further tests, such as jogging for soundness or swabbing for foreign substances that would cause sensitivity.
Ward was handed an eight-month suspension from competition by the FEI in 1999 after stewards found plastic chips in his horse's boots that would cause pain if the horse hit a jump pole. He has competed with a clean record since that incident and has become one of the top U.S. show jumpers. Sapphire has been a powerhouse in international competition with two Olympic gold medals and one WEG silver on her résumé. Her impressive record prompted to the USEF to give her a bye for this year's WEG selection trials.
Official Results:
1. Noltes Kuchengirl/Plot Blue (Marcus Ehning) Ger 6;
2. (TIE) Gotha (Ludger Beerbaum) Ger,
2. (TIE) Carlina/Ulysse (Pius Schwizer) Sui 7;
4. Winningmood (Luciana Diniz) Por 9;
5. Hallmark Elite (Dermott Lennon) Irl 10;
6. Urico (Mario Deslauriers) USA 13;
7. (TIE) Silvana (Kevin Staut) Fra,
7. (TIE) Cristallo (Richard Spooner) USA,
9. Vivant (Chris Chugg) Aus 14;
10. Quintero la Silla (Rolf-Goran Bengtsson) Swe 15.