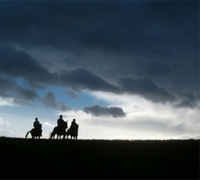 On Friday April 16, the American Horse Council's Legislative Director Ben Pendergrass participated in the White House Conference on America's Great Outdoors held at the US Department of the Interior.
The conference focused on the "challenges, opportunities and innovations surrounding modern-day land conservation and the importance of reconnecting Americans and American families to the outdoors." Conservation and outdoor recreation leaders from around the country were invited to attend the conference.
President Obama delivered remarks to the conference and signed a Presidential Memorandum establishing the America's Great Outdoors Initiative. The goals of the Initiative will be to: (1) Reconnect Americans with the outdoors by promoting community based recreation and conservation, advance job and volunteer opportunities related to conservation and recreation, as well as educate individuals in American's history, culture, and natural beauty; (2) Build upon State, local, private, and tribal priorities for the conservation of land, water, wildlife, historic, and cultural resources; (3) Use Science-based management practices to restore and protect America's lands and waters.
Ken Salazar, Secretary of the Interior, Tom Vilsack, Secretary of Agriculture, Lisa Jackson, Administrator of the Environmental Protection Agency, and Nancy Sutley, Chair of the White House Council on Environmental Quality spoke at the conference and will lead this Initiative.
The first half of the conference included remarks from the President and the leaders of the Initiative and two panel discussions. The first panel discussion focused on the importance of America's private working lands like farms, ranches and working forest. The second panel topic was conserving and connecting Americans with the country's public lands.
Smaller breakout sessions with senior administration officials were held the rest of the day to give individual attendees an opportunity to discuses their view points on conservation and outdoor recreation.
"We were happy to be invited to the conference," said Ben Pendergrass, AHC Legislative Director. "The breakout sessions were an excellent opportunity to remind the Administration and other attendees that the conservation and management of America's public and private lands is extremely important to the millions of equestrians throughout the country. Recreational riders are dependent on access to public lands and without private land to breed, raise, and feed its horses the equestrian community could not exist."
As part of the initiative the Administration and federal agencies involved will hold listening sessions around the county with tribal leaders, farmers, and ranchers, sportsmen, community park groups, foresters, youth groups, businesspeople, educators, State and local governments, and recreational and conservation groups. These sessions in conjunction with continued discussions with attendees of the conference and a report due in November will be used to craft future policy to achieve the goals of the Initiative.
"The AHC looks forward to working with President Obama, Congress, the federal agencies and all stakeholders to preserve and help connect Americans with the outdoors," said AHC President Jay Hickey. "We strongly believe the horse industry can play an important role in getting kids off the couch and help all Americans, including those with physical impairments to experience the outdoors in a unique and special way."