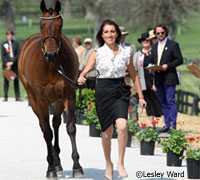 A field of 53 horses-the largest ever since the event became a CCI4* in 1998-will start the Rolex Kentucky Three-Day Event, presented by Bridgestone, on Thursday morning. All 53 horses that were presented to the ground jury and official veterinarian at 3:00 this afternoon were accepted for competition.
In addition to more than two dozen Americans hoping to be selected to ride in the 2010 Alltech FEI World Equestrian Games, the starting field includes riders from Canada, Great Britain, Ireland, France, New Zealand, Australia and Argentina.
Rolex Kentucky will get underway tomorrow despite transportation delays caused by the ash spewing from the erupting volcano in Iceland. American Phillip Dutton had planned to ride three horses at Rolex Kentucky and to ride Woodburn at the Badminton Three-Day Event, the second leg in the Rolex Grand Slam. But he was unable to fly Woodburn to England, so he'll be facing the monumental task of guiding four horses around the Rolex Kentucky cross-country course.
Boyd Martin, who like Dutton represented Australia before moving to the United States, will ride three horses.
British riders Oliver Townend and William Fox-Pitt both reached Lexington yesterday after negotiating a maze of different forms of transportation. Townend, who is positioned to win the $350,000 bonus that goes with the Rolex Grand Slam if he wins this weekend on one of his two horses, paid $3,000 for a taxi ride from Paris to Madrid in order to catch a flight to Miami. Fox-Pitt convinced a neighbor to fly him in his private plane to Madrid so he could get here.
The Rolex Kentucky Three-Day Event, presented by Bridgestone, is America's only four-star competition. The world's best horses and rides vie for $250,000 in prize money and the coveted Rolex Championship.
This year NBC has expanded its television coverage of the Rolex Kentucky Three-Day Event from 60 to 90 minutes. The program will air on Saturday, May 15, from 3:00 to 4:30 EDT, just prior to the Preakness Stakes.
Read the 2010 Rolex Preview >>
See photos and results from the 2009 Rolex Kentucky Three Day Event >>